Apricot Cream Scones. Apricot Cream Cheese Scones We love the bright flavor and color of apricots in scones; cream cheese lends these added richness. We also love using our Pastry Flour Blend. Its lower protein content yields a final product that's more tender and delicate than that of a higher protein flour.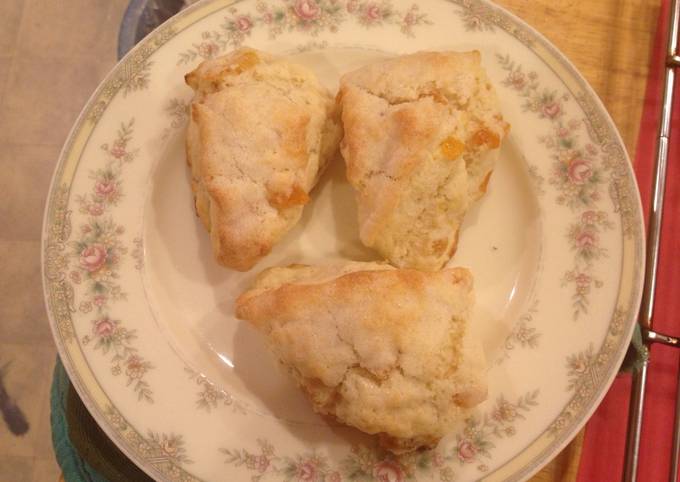 Top these scones with a dash of lemon curd for a sweetly-tart delicious flavor combination… The slightly tart bursts of apricot are a wonderful addition to the rich, tender cream scone. While staying with my aunt and uncle, I made several batches of scones in a quest to create a new recipe. For scones, combine the dry ingredients in a large bowl. You can cook Apricot Cream Scones using 8 ingredients and 10 steps. Here is how you achieve that.
Ingredients of Apricot Cream Scones
Prepare of all-purpose flour.
You need of baking powder.
Prepare of salt.
You need of sugar.
You need of chopped dried apricots.
It's of heavy cream.
Prepare of butter(melted).
Prepare of sugar.
Cut in butter until mixture resembles fine crumbs. Add the apricots, pecans and orange zest. DIRECTIONS In a medium-sized mixing bowl, whisk together the flour, sugar, baking powder and salt. Cut in the cream cheese and butter, using your fingers, a pastry blender, fork, or a mixer, until the mixture resembles coarse cornmeal, then stir in the apricots.
Apricot Cream Scones step by step
Chop dried apricots.
Preheat oven to 425•F.
Combine flour, baking powder, salt. And sugar in mixing bowl, stirring with a fork to mix well..
Add dried apricots and mix. Still using a fork stir in the cream and mix until dough hold together in a rough mass(dough will be sticky).
Lightly flour your board and transfer the dough to it. Knead the dough 8-9 times..
Pat dough into 10 inch circle(to make mini scones split dough in half and pat into two 5 inch circles).
For the glaze spread the melted butter over the top and side of the circle then sprinkle sugar on top..
Cut circle into 12 wedges(or 8 wedges each for mini scones).
Place on ungreased baking sheet or silpat, allowing about an inch between pieces..
Bake for about 15 minutes(10 minutes for mini's) or until golden brown..
In a separate bowl whisk together the egg, vanilla and milk. Combine the flour, baking powder, salt, and sugar in a bowl, stirring with a fork to mix well. Still using a fork, stir in the cream and mix until the dough holds together in a. Turn dough onto surface dusted with Bisquick; roll in Bisquick to coat. Combine flour, apricots, sugar, orange zest, baking powder, baking soda and salt in bowl.