Jell-O Cupcakes. Add one cup of boiling water to the Jell-O mix and stir until all of the powder has dissolved. Mix cupcakes as directed on the back of the box and bake as directed. Poke holes in cupcakes with fork or toothpick.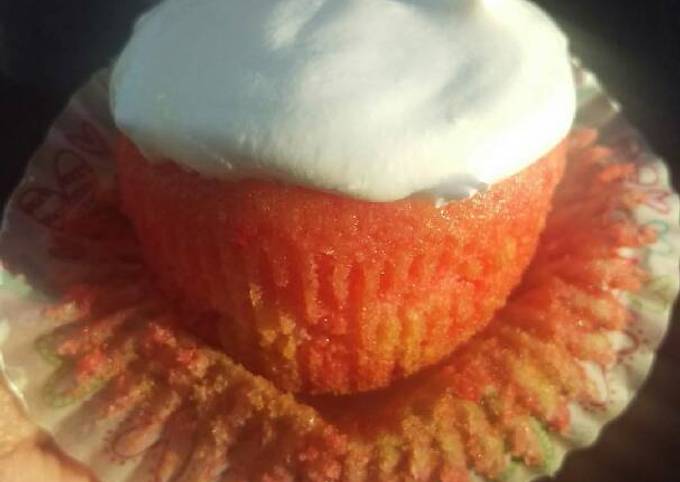 Pour the jello mixture over the tops of the cupcakes. Strawberry Jell-O Cupcakes Strawberry cupcakes, make from scratch using fresh strawberries, strawberry Jell-O mix and strawberry extract. These cupcakes are simple to make and the recipe can easily be doubled. You can cook Jell-O Cupcakes using 5 ingredients and 7 steps. Here is how you achieve it.
Ingredients of Jell-O Cupcakes
Prepare 1 box of strawberry cake mix(or you can use white).
You need of Ingredients needed for the cake mix.
It's 1 tub of cool whip(or heavy whipping cream).
It's of Cut up strawberries.
It's 1 package of Jell-O(I used the box with 4 servings).
What looks like a normal cupcake on the outside is filled with a colorful fun surprise inside. These JELL-O poke cupcakes are fun to eat & make! Mix up cake mix as directed on box, you know the routine, eggs, oil, water, whatever. Now separate half of your batter to a separate bowl.
Jell-O Cupcakes step by step
Make cupcakes according to package directions & mix in the cut up strawberries. Bake them as recommended on the box..
Let them cool completely..
Make Jell-O according to package directions..
Using a fork, or toothpick poke multiple holes in all of the cupcakes..
Then using a tablespoon, add the Jell-O liquid to each cupcake until you've used it all. (This next step is messy so you may want to place the cupcakes on a baking sheet, for an easier clean up.).
Place them in the fridge for 4-6 hours(or overnight).
After that time is up, take them out and top with cool whip and strawberries..
Add Jello mix to remaining batter and mix. Line a cupcake pan with cupcake liners and set aside. To a large bowl add the boxed cake mix and the whole milk. It is known to make cakes moister by adding in Jello. Plus, it also makes the cakes look so pretty since you can use any color you'd like!