Savory Scones. Add all the dry ingredients into a large bowl and stir to combine. Grate the frozen butter into the dry ingredients. Savory scones are a wonderful side dish to serve with dinner, as an appetizer, served with soup, or as a savory snack at teatime.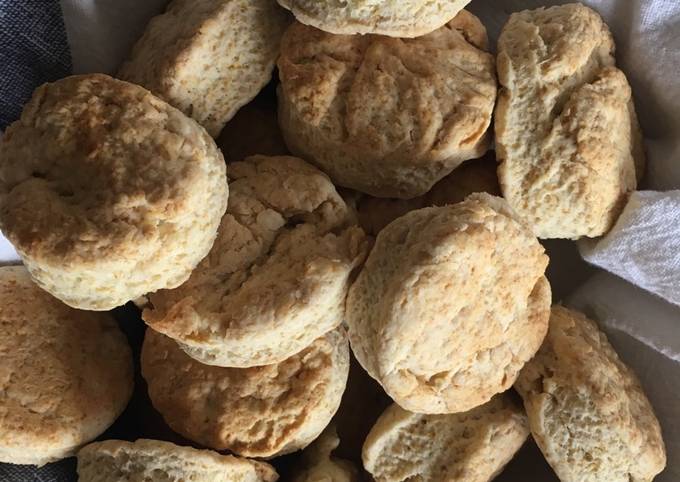 Rich and tasty savory brunch scones, bursting with cooked ham, juicy cranberries, sun-dried tomatoes, green onions and Cheddar cheese. Red pepper flakes add a hint of spice. As for cheese, use any kind of hard cheese you prefer. You can have Savory Scones using 5 ingredients and 6 steps. Here is how you achieve that.
Ingredients of Savory Scones
You need 2 cups of flour.
It's 1 tsp of baking powder.
Prepare 1 tsp of salt.
It's 75 g of butter.
Prepare 2/3 cup of milk.
Easy Cheese and Garlic Scones A buttery-rich scone is nothing more than a glorified biscuit made even more delicious with our sweet and savory Southern twists. These fluffy treats pair exceptionally well with a cup of joe or tea. Famously known for their crumbly exterior and soft interior, these baked goods are oh-so-irresistible. Sweet or savory scones can be made ahead and frozen.
Savory Scones step by step
Mix flour, salt and baking powder.
Cut butter in small cubes and add to the mix. Butter has to be cold and firm.
Mix butter into flour with fork/knife, until you get a sandy consistency..
Quickly add milk and mix with minimum kneading, just enough to form a soft dough. You can do a final mix with a wooden spoon to make it all come together better, before putting your hands in; this way you minimizing melting the butter with your warm hands..
Cut scones (3/4 inch high) and put on buttered tray.
Bake 12 mins in high temperature (200 C) oven. Let rest/cool down 5 mins covered with a kitchen cloth..
Savory Scones A hybrid between traditional sweet scones and salty, buttery biscuits, this all-purpose dough is ideal for all sorts of savory fillings. From gruyere, onions, and mushrooms to gouda. Brush the scones with a bit of cream; this will help their crust brown. Remove them from the oven, and cool right on the pan. Serve warm, or at room temperature.