Brad's veal scallopini w/ sausage & sun dried tomato pasta.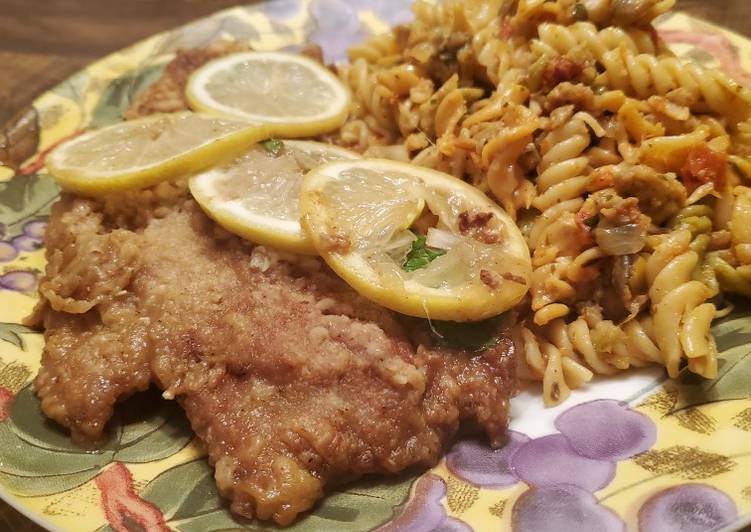 You can have Brad's veal scallopini w/ sausage & sun dried tomato pasta using 21 ingredients and 9 steps. Here is how you cook it.
Ingredients of Brad's veal scallopini w/ sausage & sun dried tomato pasta
You need of For the veal.
It's 6 (4 oz) of veal cutlets.
It's 1 1/2 cups of flour.
You need 1 tbs of ea; garlic powder, dry mustard, salt, white pepper, parsley.
You need 1/2 cup of oil.
You need 1/2 stick of butter.
You need 1 1/2 cups of dry white wine.
You need 1 tsp of minced garlic.
You need 3 of lemons.
Prepare 1/2 bunch of fresh Italian parsley.
Prepare 2 tbs of capers, drained and rinsed.
Prepare of For the pasta.
You need 1 of lg onion, chopped.
Prepare 8 oz of white mushrooms, sliced.
You need 1 1/2 lbs of sweet Italian sausage.
Prepare of Italian seasoning, sage, salt, and white pepper to taste.
You need 1 box of tri color rotini, cooked al dente.
You need of Fresh parsley.
You need of Juice of half a lemon.
It's 1 of small jar of sun dried tomato pesto.
It's of Shredded parmesan cheese.
Brad's veal scallopini w/ sausage & sun dried tomato pasta step by step
Add onions and mushrooms to a large Dutch oven with a little oil. Sauté until onions start to sweat..
At the same time, pound out the veal cutlets so they are thin and tender. Season with a little salt and set aside..
Add sausage to the onions. Cook until sausage is browned. Try to leave it in larger chunks..
Meanwhile, mix the flour and seasonings for the veal in a large ziplock bag. In a large frying pan add the butter and oil. Heat the oil. When the butter is melted, pour half of the butter/ oil mixture to another large frying pan. This way all 6 cutlets can be working at the same time..
Drain the sausage and add the al dente pasta, pasta seasoning, parsley and lemon juice. Turn heat to low and cook for a few minutes..
When oil is heated at medium high heat, add cutlets to the bag of seasoned flour and shake to coat well. Lay carefully in pans and fry about 3-4 minutes per side. Until breading is just golden brown. Remove to a plate with paper towels to drain and place in a preheated oven to 170 degrees F..
Add the pesto and desired amount of cheese to the pasta, cook until heated through..
Drain oil from the pans. Add wine, garlic, and juice of 1 lemon to the pan. Cook over medium heat until mixture reduces by half. Slice the other 2 lemons. When sauce is reduced, add capers and fresh parsley. Toss well. Divide mixture between the 2 frying pans. Return the veal to the pans. Toss to coat the cutlets, layer lemon slices over the top. Cover and let cook for 2 minutes..
When done, plate immediately and serve. Enjoy..