Spare Ribs & Fennel.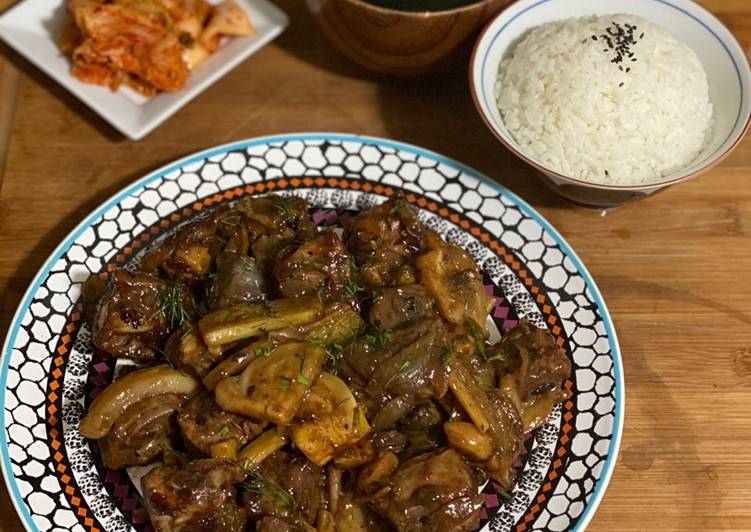 You can have Spare Ribs & Fennel using 10 ingredients and 7 steps. Here is how you cook that.
Ingredients of Spare Ribs & Fennel
You need 2 of Lbs. Spare Ribs.
You need 1 of Bulb Fennel.
It's 2 Tbs. of Black Bean Garlic Sauce.
Prepare 2 of Small Onions.
Prepare Handful of Water Chestnuts (or canned).
You need of Chili Flakes.
You need of Ginger.
It's 5 of Spice Powder.
Prepare 2 Tbs. of Corn Starch.
You need 1/4 Cup of Brown Sugar.
Spare Ribs & Fennel instructions
Put spare ribs into a pot with enough water to cover them. Bring to a boil. Skim the foam, or as we call them, drugs, off of the top. Maintain a rolling boil until there are no longer drugs seeping out. Remove ribs and skim off any residue. Put water aside..
Prep veggies. Take the fronds off the top of the fennel and reserve for later..
Cut the ribs between the bones and add into a large bowl. Add in the ginger, black bean garlic sauce, 5 spice powder and chili flakes. Mix well..
In a wok or large pan, on medium high heat, add sugar and melt until liquefied. Immediately add in ribs and stir to coat. Add in a couple ladles of the reserved water that the ribs were initially boiled in. Mix..
Turn heat up to high and add in the veggies. Do not add any salt. It's unnecessary. The black bean garlic sauce is salty enough. Add more water if necessary. Cook down the vegetables for a few minutes..
Dissolve the corn starch in a little bit of water. Add to pan. Be sure that there is enough liquid in the pan. The aim is to make a gravy. Remove from heat when thickened..
Take a bit of the reserved frond, wash and dry it. Give it a rough chop. Sprinkle over ribs..