White Chocolate and Lemon Peel Scones & Dark Matcha Scones. Lemon and white chocolate scones were just coming out of the oven when my son walked in the door from the airport. Home from college for the weekend, I knew one way to make him happy to be home was through good food. The food quality is really his only complaint about being away.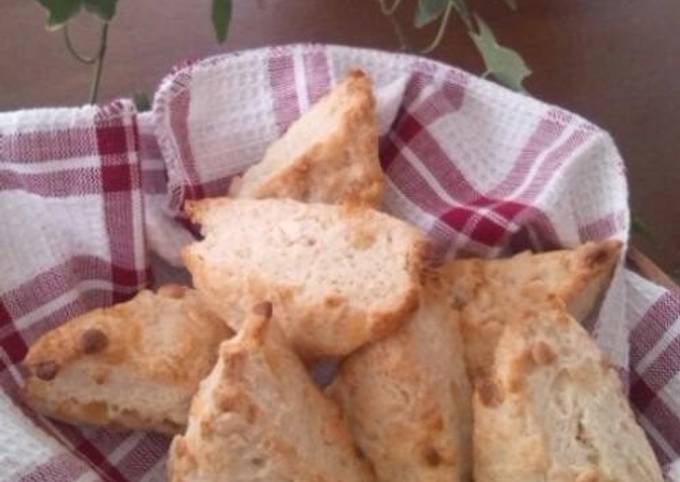 They're studded with white chocolate chips for creamy vanilla bursts of flavor. Drizzled over the top is a sweet, tangy lemon glaze. They don't last long in my house – We absolutely love them! You can cook White Chocolate and Lemon Peel Scones & Dark Matcha Scones using 8 ingredients and 9 steps. Here is how you cook it.
Ingredients of White Chocolate and Lemon Peel Scones & Dark Matcha Scones
It's 150 grams of Cake flour.
You need 20 grams of Sugar.
Prepare 3 grams of Baking powder.
Prepare 1 pinch of Salt.
It's 30 grams of * Butter.
It's 50 grams of *Milk.
It's 30 grams of White chocolate.
It's 30 grams of Candied citrus peel.
Place flour, sugar, baking powder, lemon zest and salt in the bowl of a food processor. Pulse a few times to combine. Line a baking sheet with parchment paper. Mix the flour, baking powder, sugar, salt, lemon zest, and white chocolate together in a large bowl.
White Chocolate and Lemon Peel Scones & Dark Matcha Scones step by step
Combine the * butter and milk in a heatproof container and microwave for 40 to 50 seconds at 600 W. Even if the butter is not fully melted, it will melt when you mix, so don't over-cook..
I used white chocolate chips and chopped peels. If either one is too big, chop them up a bit..
Preheat the oven to 375F/190C. Combine the cake flour, sugar, baking powder, and salt in a bowl and mix together with a rubber spatula..
Add butter and milk from Step 1 to the flour and mix together lightly..
Add the white chocolate chips and peel while the dough is still floury, and mix together..
When it has come together, take out the dough onto a piece of kitchen parchment paper, and form into a circle about 1.5 to 2 cm thick..
Cut into 8 pieces on the paper, and push the pieces apart to make space in between them. Bake in the preheated oven for 10 to 15 minutes..
Cool on a rack..
To make the matcha scones: Use 145 g of cake flour, 40 g sugar, 10 g matcha, 3 g baking powder, 1 pinch of salt, 60 g milk, 35 g butter, 40 g chocolate chips, and 25 g walnuts..
In another bowl, whisk together the heavy cream, lemon juice, vanilla, and egg. Use a pastry cutter to cut the butter into the flour mixture, until the butter is the size of small peas. Remove the scones from the oven and place on a wire rack until cool. While the scones are cooling, combine powdered sugar and lemon juice in a bowl and whisk until smooth. Drizzle the glaze over the scones and serve.