Cinnamon Scones.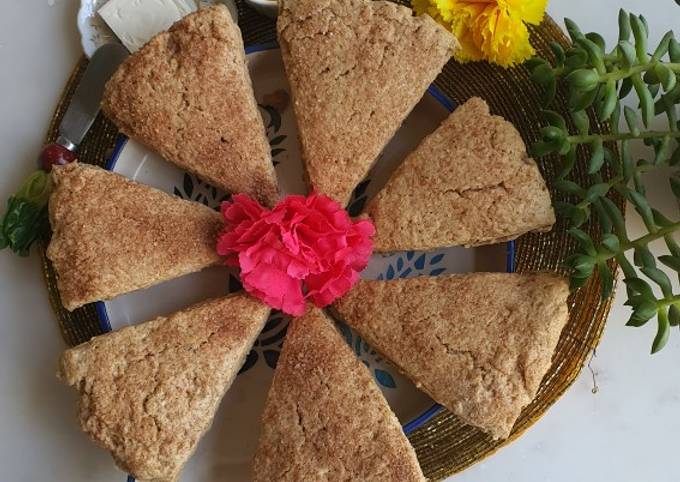 You can cook Cinnamon Scones using 11 ingredients and 9 steps. Here is how you cook it.
Ingredients of Cinnamon Scones
Prepare 2 cups of Whole wheat flour.
Prepare 2 tsp of Baking powder.
You need 1 tsp of Cinnamon powder.
Prepare 1/2 tsp of Salt.
You need 100 grms of Butter.
Prepare 2 of Eggs.
You need 1/4 cup of Table Cream.
It's 3/4 cup of Brown sugar.
Prepare 2 tsp of Suagr.
Prepare 1 tsp of Cinnamon powder.
Prepare 2 tsp of Milk.
Cinnamon Scones step by step
Take the flour add the baking powder,cinnamon powder,salt and mix..
Rub the butter in the flour to form a crumbly texture.
Whisk the eggs and cream togther.
Add the egg mix into the flour mix.Add the brown sugar.
Mix everything roughly.Dont want a smooth dough here.
Spread on butter paper and divide into 8 portions.
Give milk wash.
Sprinkle the sugar and cinnamon powder on top.
Preheat the oven to 180⁰c and bake for 16 mins.Serve warm with cheese,butter and jam.They taste superb as it is too along with some hot tea or coffee..