Paleo Herb Scones. In other words, these herb scones are delicious, but they are best enjoyed as a treat or as a healthy getaway when cravings for bread are too high. Use this AIP Master Scones Recipe to make the best Paleo, egg-free, nut-free scones in a variety of flavors: lemon, blueberry, strawberry, chocolate chip, cinnamon-sugar, bacon-herb and more. These crispy crumbly-edged on the outside, tender in the middle sweet biscuits are as flavorful or plain as you wish them to be — like classic cream.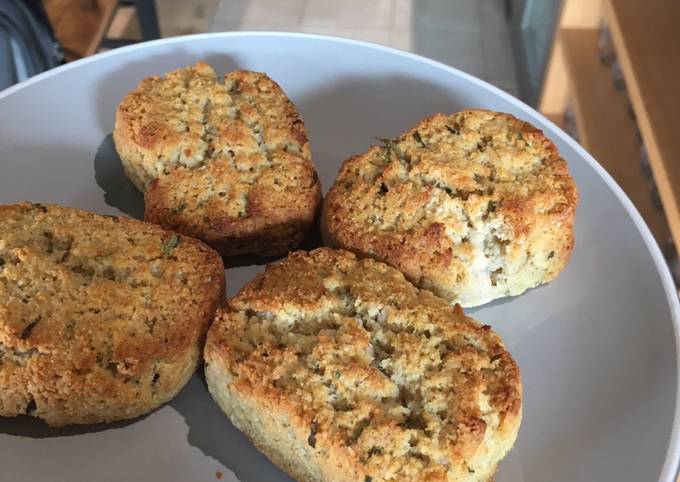 These are REALLY good scones that will convert even the biggest scone skeptic! Add the almond meal, arrowroot, nutritional yeast flakes, baking powder, mustard, paprika and sea salt to a large bowl. Stir well to combine and remove any lumps, then mix through the chives. You can have Paleo Herb Scones using 7 ingredients and 6 steps. Here is how you achieve that.
Ingredients of Paleo Herb Scones
Prepare of ground almonds.
Prepare of salt.
Prepare of baking soda.
You need of eggs.
Prepare of fresh rosemary, chopped.
You need of dried tarragon.
It's of melted coconut oil.
Whisk these ingredients until the icing is smooth and pourable. You may need to add a bit of sugar or orange juice to get the desired consistency. In a large bowl, combine almond flour, coconut flour, sage, salt, and baking soda. In a smaller bowl, combine the honey, vinegar, coconut oil, and eggs.
Paleo Herb Scones instructions
Combine the almonds, salt and baking soda in a bowl..
In a separate bowl, whisk together the coconut oil, eggs and honey. Then stir in the herbs..
Slowly stir the dry ingredients into the wet..
Bring the dough together in a sticky ball. Then roll gently into a sausage shape in a sheet of baking paper..
Cut the dough into rounds and place the rounds on a tray lined with baking paper..
Bake at 190 C for 15 mins or until golden brown and risen..
Whisk to combine, then pour wet ingredients into dry ingredients and whisk until you have a smooth batter. In a food processor, pulse together almond flour and baking soda (add lavender here if you don't like the little specks) Pulse in egg, honey, and lemon zest. Add lavender and pulse a few times to mix. Transfer dough to a parchment paper lined baking sheet. Add the almond flour, baking soda, salt, and lemon zest to a large bowl and stir to combine.