Mint chocolate mousse. Spoil your sweet tooth with this mousse – an incredibly rich and creamy French-style chocolate dessert with the refreshing taste of mint. Mint flavor adds a refreshing touch to this chocolate mousse with crushed cookies, and fresh strawberries add a pop of color. Spoon all of the mint mousse on top.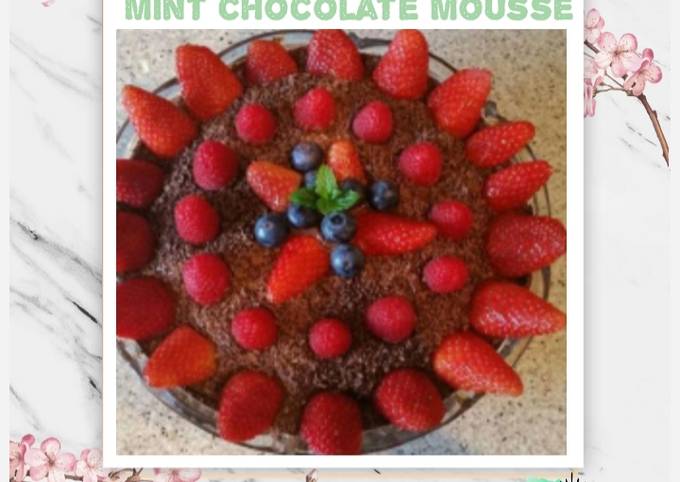 This easy mousse is a "quick fix" of a mousse craving that needs to be quickly tamed. The dessert is made of whipped cream, that has been flavored with cocoa powder for the chocolate layer and peppermint extract for the mint layer. This is such an easy dessert, that will look stunning and taste delicious. You can have Mint chocolate mousse using 10 ingredients and 6 steps. Here is how you cook it.
Ingredients of Mint chocolate mousse
Prepare of Mint chocolate.
You need of eggs.
Prepare of Stevia.
You need of Cacoa powder (sifted).
You need of lactose free cream (whipping cream).
You need of extra chocolate for grating.
Prepare of Fresh blueberries.
It's of Fresh Strawberries.
You need of fresh Raspberries.
You need of fresh Mint.
Instant pudding mix makes short work of this minty chocolate mousse. A garnish of fresh berries and minty cookie halves takes the dish to new heights. Fold in the chopped mint chocolate into the mousse. Chill for at least an hour or overnight.
Mint chocolate mousse step by step
Place a heat proof bowl, over a saucepan (do not allow the bottom to touch the water in the saucepan). Stir until dissolved. Set aside..
Beat eggs and Stevia for 4-5 minutes, until it appears thicker, fold in sifted cacao powder and dissolved chocolate..
In a medium bowl whip the cream (make sure you get the one for whipping, there is two types, normal lactose free cream and one that says whipping on it). Continue..
Fold into the chocolate mixture, be gentle with this process..
Grate extra chocolate all over mousse and decorate with berries..
Add mint leaf in the centre to garnish..
I used these chocolate serving cups. In a medium bowl, using an electric mixer, beat the cream to soft peaks. Top the mousse with the whipped cream and fresh mint sprigs. Mix the crushed graham crackers and melted butter until crumbly and completely coated with butter. Add the boiling water and stir until it's completely dissolved and the mixture is clear.