Buttermilk Scones. Combine the flour, sugar, salt, baking powder and baking soda in a large bowl. Add butter and mix with your fingertips to a coarse meal. Add butter and buttermilk; stir until a soft dough is formed.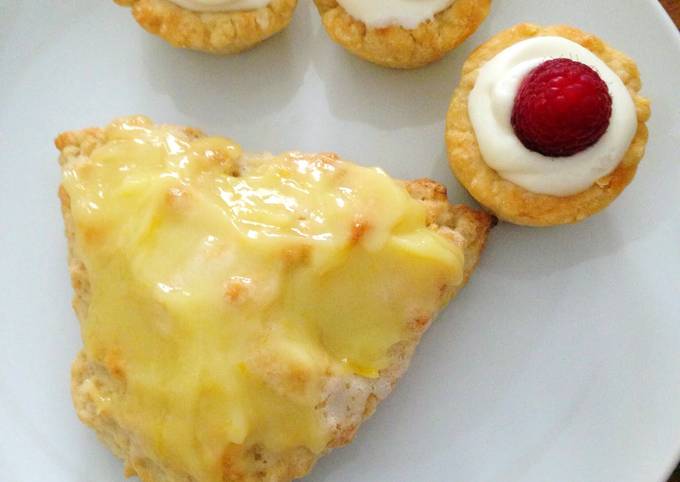 Make sure to use cold butter. Beat together buttermilk, egg, vanilla, and add the mixture to the dry ingredients. Buttermilk scones are light and flaky and so easy to make. You can have Buttermilk Scones using 12 ingredients and 13 steps. Here is how you cook it.
Ingredients of Buttermilk Scones
You need of Dough.
You need 3 cup of All-purpose flour.
It's 1/3 cup of Sugar.
You need 2 1/2 tsp of Baking powder.
It's 1/2 tsp of Baking soda.
You need 3/4 tsp of Salt.
Prepare 6 oz of Butter, unsalted, cold, cut into small pieces.
It's 1 cup of Buttermilk.
You need 1 tbsp of Lemon zest.
It's of Sugar Topping.
Prepare 2 oz of Butter, unsalted, melted for brushing.
You need 1/4 cup of Sugar, for dusting.
They are the perfect tea time or brunch treat served with thick cream and jam. How to make buttermilk scones Stir flour, baking powder, salt and sugar together in a mixing bowl. These buttermilk scones have a sugary, crispy crust, a soft and pillowy middle, and pockets of juicy, exploding blueberries. In other words, they're insanely delicious and so NOT boring, which is.
Buttermilk Scones step by step
Position the oven racks to divide the oven into thirds and preheat to 425?F..
In a medium bowl, combine the flour, sugar, baking powder, baking soda, and salt with a fork..
Add the cold butter pieces and, using your fingertips (or pastry blender or two knives), work the butter into the dry ingredients until the mixture resembles course cornmeal. ***Its okay if some larger pieces of butter remain; it makes the scones flakier.***.
Pour in the buttermilk, add the zest, and mix with a fork until the ingredients are just moistened – you'll have a soft dough with a rough look. (If the dough looks dry, add another tablespoon of buttermilk.).
Gather the dough into a ball, pressing it gently so it holds together, turn it out onto a lightly floured work surface, and knead it very briefly (about a dozen turns)..
Cut the dough in half..
Roll one of the dough halves into a 1/2-inch thick circle about 7 inches across..
Brush the dough with half of the melted butter and sprinkle with 2 tablespoons of the sugar..
Cut the circle into 6 triangles and place on a baking sheet..
Repeat steps 7-9 with the other half of the dough..
Bake the scones for 10 to 12 minutes, until both the tops and bottoms are golden..
Transfer the scones to a rack to cool slightly. These are best served warm but are just fine at room temperature..
STORING: If you are not going to eat the scones the day they are made, wrap them airtight and freeze; they'll stay fresh for a month. To serve, defrost the scones at room temperature in their wrappers, then unwrap and reheat on a baking sheet for 5 minute in a 350?F oven..
These classic buttermilk scones are a reader favourite. They are quick and easy to make (no special equipment required), delicious (plain or with your favourite jam) and the perfect base for all your scone experiments. Cranberry Buttermilk Scones In Bend, Oregon, Loraine Meyer bakes these light, fluffy scones that are loaded with dried cranberries and topped with cinnamon-sugar. "I take them to breakfast meetings, serve them at brunches, and share them with neighbors and friends," she says. Cranberry Buttermilk Scones Recipe photo by Taste of Home Heavy Cream or Buttermilk: For the best tasting pastries, stick with a thick liquid such as heavy cream or buttermilk. I usually use heavy cream, but if you want a slightly tangy flavor, use buttermilk.