Simple Soy Milk Scones with Pancake Mix. Great recipe for Simple Soy Milk Scones with Pancake Mix. I got bored of having pancakes for lunch so I decided to whip up some scones instead They make great snacks for kids too! Please adjust the baking time according to your type of oven.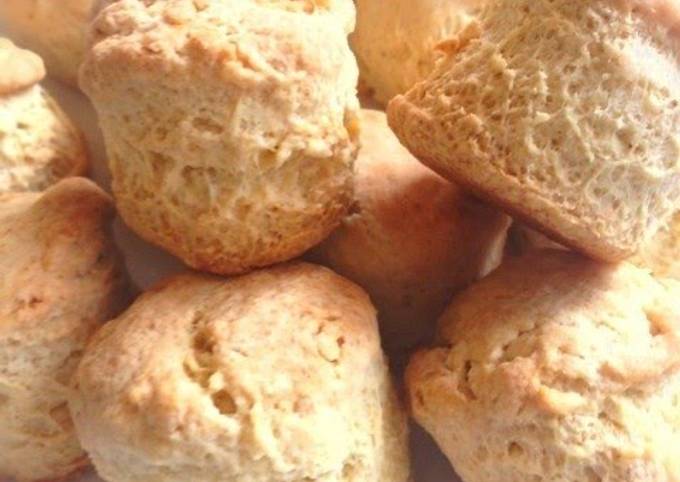 The ingredients needed to cook Butter-Free Easy Scones Made with Pancake Mix: Take of Pancake mix. Provide of Milk (or soy milk). Steps to make Butter-Free Easy Scones Made with Pancake Mix: Preheat the. You can cook Simple Soy Milk Scones with Pancake Mix using 3 ingredients and 2 steps. Here is how you achieve that.
Ingredients of Simple Soy Milk Scones with Pancake Mix
Prepare of Pancake mix.
You need of Soy milk.
Prepare of Butter.
In a small bowl, mix the vanilla soy milk, egg, oil, vanilla extract, and almond extract. Pour the soy milk mixture into the bowl with the flour mixture, and whisk together until smooth. Vegan banana scones. bisquick flour • cold vegan butter (sticks cut into cubes) • ripe bananas • table spoons of caster sugar • plant based milk (I used oatlay) • salt • Extra flour for working the dough • You can always substitute any vegan ingredients forregular stuff. Scones are a great snack, they go well with tea or just eaten on their own and there are many different kinds you can make.
Simple Soy Milk Scones with Pancake Mix instructions
Preheat the oven to 180℃. Add the pancake mix, butter, and soy milk to a plastic bag and rub the ingredients together until they form a ball of dough..
Stretch the dough out until it is about 3 cm thick and cut the scones out with cutters. Then place the scones on a baking tray lined with parchment paper and bake them for 20 minutes. If you wish to glaze the scones, brush some beaten egg over the surface..
This is a recipe that uses the pancake mix mentioned in an earlier post but can probably be made with any kind of pancake mix that requires eggs and milk (not the add water only kind) but have never tested this recipe with any other kind of mix. INSTRUCTIONS Add baking mix and sugar to a large bowl. Using a pastry knife, cut butter into the mix until lumps resemble coarse meal (the butter can also be pinched in with your fingers). Add milk and stir together until moistened. Using a stand mixer with paddle attachment or pastry blender, cut in butter until pea-sized crumbs are formed.