No Bake Cheesecake Strawberries Raspberries Mirror Glaze. Great recipe for No Bake Cheesecake Strawberries Raspberries Mirror Glaze. Cheesecake is always my favorite dessert. Because it's easy to make, light and delicious.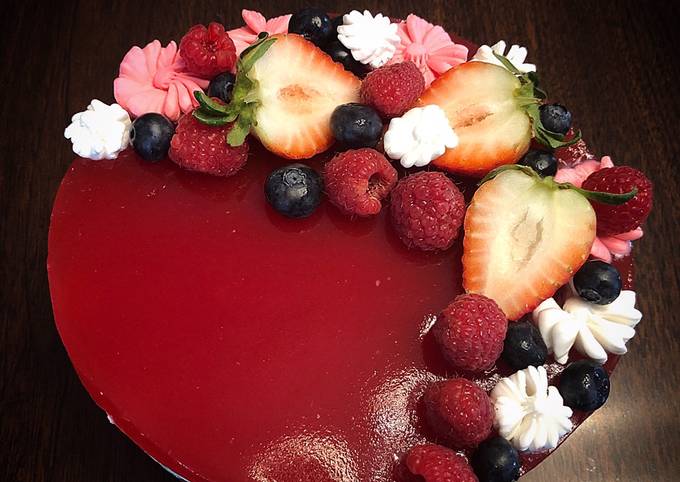 This time I am going to make a cheesecake with red. Fresh strawberry pie with a gelatin glaze was the dessert I anticipated the most every summer. We would only get to enjoy it when strawberries were in season, and tasted like actual strawberries. You can cook No Bake Cheesecake Strawberries Raspberries Mirror Glaze using 21 ingredients and 11 steps. Here is how you achieve it.
Ingredients of No Bake Cheesecake Strawberries Raspberries Mirror Glaze
You need of For the cheesecake:.
It's of packages/8 oz. each cream cheese softened (room temperature).
It's of vanilla extract.
It's of 1 tsp lemon juice.
It's of unflavored gelatin (I use 1 envelope Knox unflavored gelatin).
It's of 1 cup boiling water.
You need of sugar.
It's of For the crust:.
You need of 2 cups graham crackers crumbs.
Prepare of melted butter.
Prepare of sugar (optional).
Prepare of small strawberries.
Prepare of For the strawberry raspberry mirror glaze:.
It's of 1 cup strawberry juice.
It's of raspberry jam.
Prepare of or more sugar.
Prepare of I tbsp unflavored gelatin.
It's of water.
You need of drops of red food coloring.
It's of For topping:.
It's of Any fruits on your choice (I use strawberry, raspberry, blueberry, and fondant flowers).
No Bake Strawberry Cheesecake is an elevated version of my Mom's classic fresh strawberry pie. Melt white chocolate in a heatproof bowl over a saucepan of simmering water, making sure the bottom of the bowl doesn't touch the water. Stir until smooth, take off the heat and set aside to cool. Put the vanilla seeds or paste, cream cheese and sugar in a bowl and beat together using a hand or stand mixer.
No Bake Cheesecake Strawberries Raspberries Mirror Glaze instructions
For the crust: In a medium bowl add the graham crackers crumbs, melted butter, and sugar stir until well combined..
Press the crumb mixture into removable springform pan (mine 7 inch), spreading evenly press flat..
Cut the strawberries into thin slices about 3mm. Then arrange them around the side of the tin, with the flat side sitting against the crust base. Chill the crust in the refrigerator for at least 30 minutes or freezer in 10 minutes..
To make the filling: in a small bowl mix gelatin and sugar, add boiling water and stir until gelatin is dissolved..
In a large bowl beat cream cheese, vanilla extract and lemon juice with electric mixer on medium speed until creamy. Add gelatin mixture, continue beating until well blended after each addition..
Refrigerate 45 minutes or until thickened, keep stirring every 15 minutes. Pour into pie crust then refrigerate for at least 3 hours or until firm..
Now making the mirror glaze: In a small bowl add gelatin and water until the gelatin bloom..
Place the strawberry juice, raspberry and sugar in a saucepan and bring to a simmer. Pour the gelatin mixture and few drops of red food coloring. Keep stirring until the gelatin is dissolved. Let cool to room temperature..
Take out the cheesecake from the refrigerator, gently pour evenly the strawberry raspberry mixture over the cheesecake. Cover with plastic wrap and refrigerate for another 2-3 hours or until firm..
When it's ready to serve, unclasp side of pan and remove cheesecake. Topping with fresh berries or any fruit as your desired. Enjoy!.
HappyCooking ❤️.
Place your chilled cake on a cooling rack set over a parchment paper lined sheet pan Pour the mirror glaze over the cake letting the excess run down over the sides. The agar will cause it to set very quickly so try not to use a spatula to ice it, just allow the excess to drip off Add the frozen strawberries to a small pot over medium heat. Add the sugar and cook the strawberries until they begin to fall apart. Mash the strawberry mixture until no large chunks remain (small ones are okay) and set it aside to cool completely. Whip the cream cheese, the powdered sugar, and the vanilla on high speed until well blended.