Vanilla Cupcakes. Whisk the flour, baking powder and salt in a bowl. Beat the butter and sugar in a stand mixer fitted with the paddle. Whisk the flour, baking powder and salt together in a medium bowl.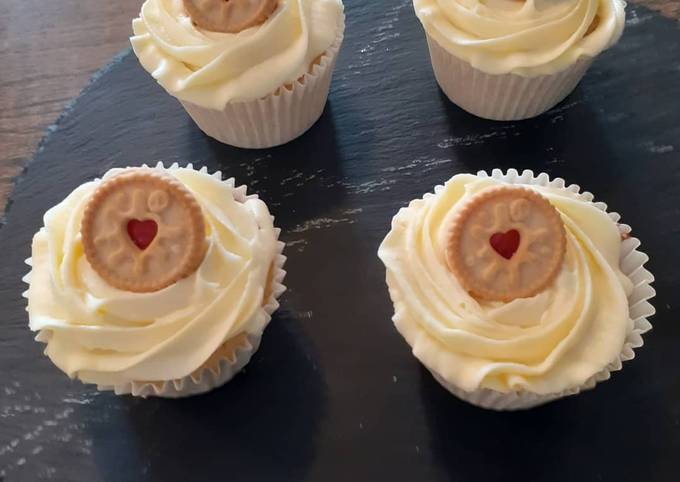 In the bowl of an electric mixer fitted with the paddle attachment, cream butter and sugar until light and fluffy. Add eggs, one at a time; scrape down bowl, and beat in vanilla. In a large bowl using hand mixer (or in the bowl of a stand mixer), beat together butter and sugar until light and fluffy. You can have Vanilla Cupcakes using 9 ingredients and 8 steps. Here is how you achieve that.
Ingredients of Vanilla Cupcakes
It's of butter or margarine.
It's of caster sugar.
Prepare of eggs.
You need of self raising flour.
Prepare of vanilla extract.
Prepare of unsalted butter softened.
It's of icing sugar.
Prepare of vanilla for icing.
It's of milk.
Stir in the eggs, one at a time, blending well after each one. Stir in the vanilla and flour just until mixed. Spoon the batter into the prepared cups, dividing evenly. Vanilla cupcakes are usually denser than vanilla cakes so they would hold their shape well.
Vanilla Cupcakes step by step
Mix the butter and sugar together until combined..
Add the eggs and mix. Then add the flour mix again and add vanilla and mix until smooth..
Evenly put your mixture into your cupcake cases. Preheat oven to about 180⁰/ gas mark 5..
Cook them for about 20 mins then check, put a knife in one to check if they are ready and if they are then it will come out clean. Take out oven and put on a cooling rack to cool..
To make the buttercream you need to beat the butter until it's all smooth and then add the icing sugar a little bit at a time..
When it's all mixed in and is smooth, add the milk and vanilla and mix again..
When cupcakes are completely cool, get a piping bag and put your nozzle in and add the buttercream to your bag and pipe onto cupcakes..
Add the biscuits or sweets of your choice on top of the cupcakes..
Just a secret Japanese baking technique applied to classic butter cupcakes ingredients. Combine the flour, baking powder and salt in a medium sized bowl and set aside. In a large glass measuring cup, whisk together eggs, milk, and vanilla. Next are the wet ingredients: milk, vegetable oil, vanilla extract and eggs. The oil is the fat component instead of butter and in my opinion, tends to make a more moist cake that stays moist for longer.