Herb, Cheese, Nuts and Seed Scones. Place flour into a large bowl and rub butter into the flour. Stir through the herbs, cheese, cranberries and seeds. Sieve the flour, baking powder and salt into a mixing bowl.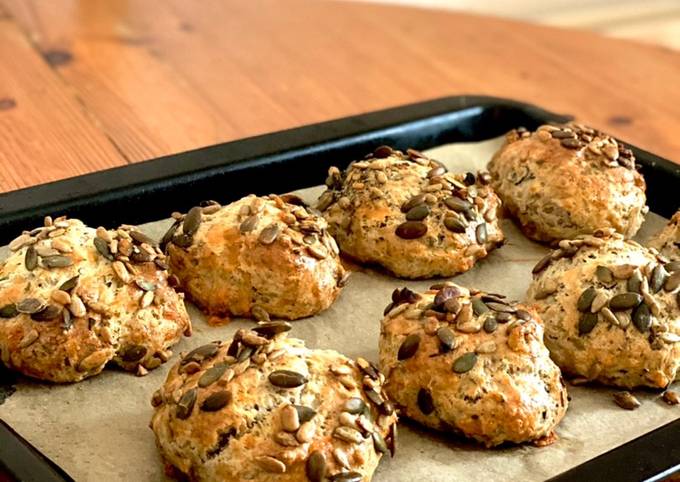 Combine the wet and dry ingredients. Brush the tops with the remaining milk, then sprinkle over the Parmesan cheese. Serving Tip: Top the warm scones with butter, ghee, vegan butter, or your favorite soft cheese. You can cook Herb, Cheese, Nuts and Seed Scones using 15 ingredients and 6 steps. Here is how you achieve it.
Ingredients of Herb, Cheese, Nuts and Seed Scones
You need of Scone.
You need of Self-raising Flour.
You need of Cold, Cubed Butter.
You need of Chopped Sage.
It's of Chopped Rosemary.
You need of Milk.
It's of Egg.
You need of Caster Sugar.
Prepare of Walnut Havles.
You need of Cracked Black Pepper.
You need of Baking Powder.
It's of Grated Cheddar.
It's of Topping.
You need of Mixed Seeds.
Prepare of Egg.
Variations: Switch it up and add nuts or seeds instead. Line a baking sheet with parchment paper. Grate cold butter into flour mixture. Add ricotta cheese, herbs, garlic powder and black pepper.
Herb, Cheese, Nuts and Seed Scones step by step
Set the oven to 180C. Line a baking tray with baking paper. Weight out all the ingredients..
Next combine the flour, butter and herbs in a food processor and pulse until it resemble crumbs..
Now add the rest of the ingredients and pulse till it comes together into a dough..
Roughly separate the dough into 8 parts. Beat the remaining egg and brush it over the top of the scones. Sprinkle the mixed seeds over the top..
Put the scones into the oven for 15-18 mins..
Once golden brown on the top and bottom take them out and enjoy them fresh and warm..
Mix the flour with the baking powder, salt and cheese. Cut the butter into pieces and add. Now mix with your kitchen machine until the mixture is all crumbly. Lastly add the eggs and milk and knead quickly together. Sift flour, baking powder and salt in a large bowl.