Chocolate Oatmeal. Heat milk and a pinch of salt in a small saucepan over medium heat until begining to simmer. Reduce heat and add oats, cocoa and sugar. Simmer over low heat, stirring occasionally until thickened.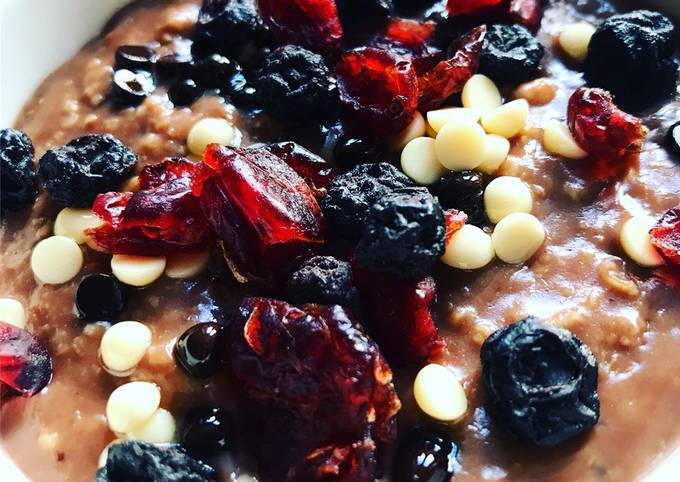 It tastes like a rich and chocolatey dessert, but it's healthy enough for breakfast! Now you can justify having an oatmeal diet. Chocolate is healthy when you use the real kind. You can have Chocolate Oatmeal using 8 ingredients and 5 steps. Here is how you cook it.
Ingredients of Chocolate Oatmeal
Prepare of milk.
It's of Quaker Ready to eat Oats.
Prepare of cocoa powder.
It's of sugar/honey.
Prepare of salt.
It's of Chocolate Chips.
It's of Blueberries and blackberries.
It's of chopped Cashew nut and almonds.
About Chocolate Oatmeal This chocolate oatmeal is the best of both breakfast universes. It is chocolaty and complexly flavored enough to satisfy even the most demanding of chocoholics and healthy enough to be a breakfast we can feel saintly inhaling. The key to this chocolate oatmeal's rich flavor is unsweetened cocoa powder. Disclosure: This blog post contains affiliate links.
Chocolate Oatmeal step by step
Heat milk in a saucepan over medium flame. Add a pinch of salt to it..
Reduce heat and add oats, cocoa and sugar/honey..
Stir occasionally till the consistency of the milk starts to thicken. If you do not like your oats to be of a thicker consistency then turn off the flame as soon as the oats get cooked..
If you prefer having your oatmeal of a thick consistency and thoroughly cooked, then continue stirring for another 5 minutes..
Remove from flame and serve in bowls. Garnish with chocolate chips, berries, and chopped nuts. You may add fresh fruits of your choice..
Stir the cocoa powder and sweetener into the oatmeal. Top with a moderate amount of sliced banana and a splash of almond milk if desired. (Sometimes I stir a little almond milk into the oatmeal along with the cooca powder and sweetener if I want it to be thinner or not so dark chocolatey.) In a large bowl, cream together the margarine, brown sugar and white sugar. Beat in the egg and vanilla. Stir in the dry ingredients using a wooden spoon. Mix in the oats and chocolate chips.