Cream scones. Sift together the flour, baking powder, sugar, and salt in a large mixing bowl. Add the butter, cream, and milk; stir until a spongy dough has formed. Turn the dough out onto a lightly-floured surface.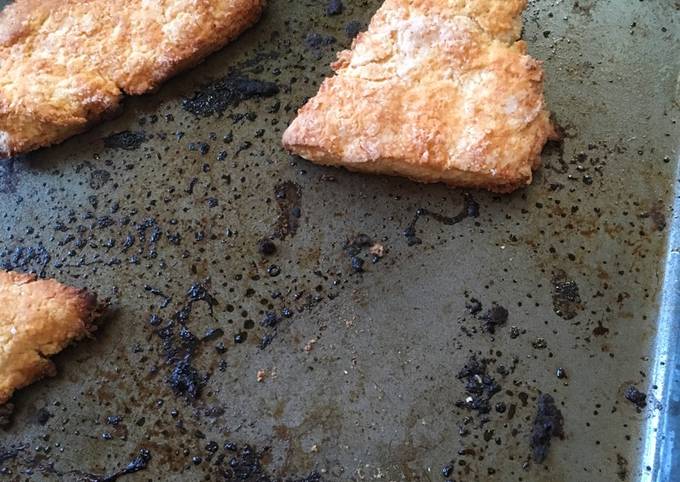 Pat into circles, cut into wedges, chill, bake — and enjoy ultra-tender, warm "cream tea" scones, perfect with butter and fresh preserves. With a pastry blender or two knives used scissors fashion, cut in the butter until the mixture resembles coarse crumbs. In a small bowl, stir together the cream, egg, and vanilla. You can have Cream scones using 7 ingredients and 8 steps. Here is how you cook it.
Ingredients of Cream scones
It's of cream.
It's of sugar.
You need of salt.
Prepare of butter.
Prepare of eggs.
It's of flour.
You need of baking powder.
Add the cream mixture to the flour mixture and stir until combines. Sift flour, sugar, baking powder, and salt into a large bowl. In a large bowl, sift together the dry ingredients. Gradually add enough of the cream to form a soft dough.
Cream scones step by step
Sift dry ingredients.
Blend in butter with a pastry knife.
Add well beaten eggs and cream.
Turn out onto floured surface.
Roll till 3/4 inch thick.
Cut into triangles.
Place on greased baking sheet.
Bake for 15 minutes in a 450 oven.
Knead lightly on a floured board, handling the dough gently to retain the air needed for the scones to rise. Add more cream, a tablespoon at a time, if the dough seems too dry. Scones are quick breads with just the right amount of sweetness. They are crunchy on the outside and soft on the inside, and are made from just a few simple ingredients: flour, butter, a liquid such as heavy cream or buttermilk, sugar (usually a small amount), and sometimes eggs. Eggs make scones richer in flavor but heavier in texture.