Baked Cheesecake & Blueberry Wine Sauce. Choose from Appetizers, Salads, Pastas and more, There is Truly Something for Everyone! Gradually beat in sweetened condensed milk until smooth. To bake the cheesecake: Place the cheesecake in the oven.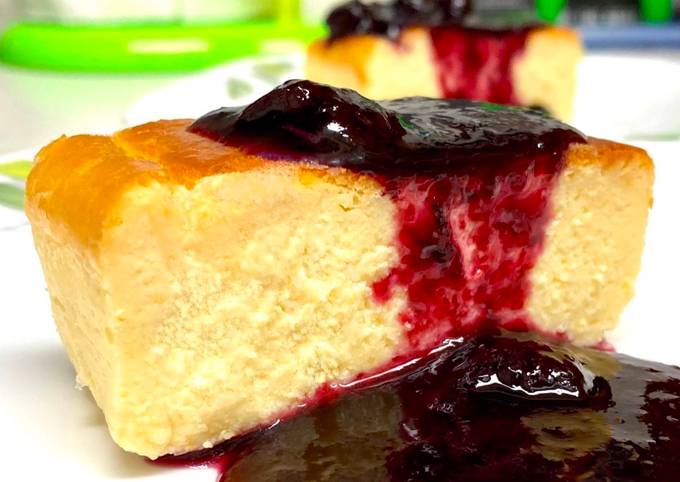 Cheesecakes are usually baked with a bottom crust made of sweetened crumbs, and they're often baked in a springform pan that is designed to be easily removed after the cheesecake is baked. However, springform pans are notorious for leaking. Over time, bends and dings in the metal where the band meets the base can weaken the seal. You can cook Baked Cheesecake & Blueberry Wine Sauce using 13 ingredients and 17 steps. Here is how you cook it.
Ingredients of Baked Cheesecake & Blueberry Wine Sauce
You need of Cake.
Prepare of Cream cheese.
Prepare of White sugar.
It's of Cake flour.
You need of Honey.
It's of Eggs.
Prepare of Heavy cream.
It's of Lemon zest.
Prepare of Lemon juice.
You need of White Rum.
It's of Sauce.
You need of Blueberry jam.
Prepare of Red wine.
Though many of us think of cheesecake as being a dessert served cold, there are baked forms of cheesecakes as well. Although both versions can be delicious, many associate unbaked cheesecakes with lazy cooking. They also prefer baked cheesecakes because they tend to be made with more healthy ingredients. Gently place the roasting pan in the oven (don't pull the rack out of the oven).
Baked Cheesecake & Blueberry Wine Sauce instructions
Cream cheese at room temperature..
Add white sugar and knead well with a spatula..
Add cake flour and mix well..
Add honey and mix..
Make beaten eggs, add it to the cake mixture and mix well. *The photos are 4 eggs, but add just 2 eggs. That's for 4 trays..
Add heavy cream and mix..
Add lemon zest & juice, white rum, and then mix well..
Pre-heat the oven to 180℃ (356℉)..
Pour the cake mixture into the baking tray. Lightly drop the tray few times to make the surface even. Pour 1/3 water in the grill tray for steam baking..
Bake at 180℃ (356℉) for 25 mins and then 150℃ (302℉) for 20 mins..
Cool it down. Do not touch the cake. It's easy to break..
Wrap with foil and put in the refrigerator..
Put blueberry jam & red wine in a bowl..
Heat at 600W for 3 mins or boil with a pan..
Cool it down and pour into a container. Keep in the refrigerator..
Put a slice of cheesecake on the plate and serve with tasty sauce!.
"Baked Cheesecake & Peach Chardonnay Sauce" is also good! Recipe ID : 13304223.
Pour in enough hot water to come about halfway up the side of the springform pan. When it's done, the center of the cheesecake will slightly wobble if you gently shake the pan. Turn the oven off and open the oven door slightly. This recipe has you wrap the cheesecake very well in aluminum foil and then bake it inside a water bath — which simply means setting the wrapped cheesecake in a roasting pan or other large dish and adding a few inches of steaming water into the outer pan. Why go to all this fuss?