Cheese Cupcake. These easy do-ahead desserts are perfect for a party. Keep a batch in your freezer and top with the cherry pie filling just before serving. Stir in the eggs one at a time, then mix in the vanilla.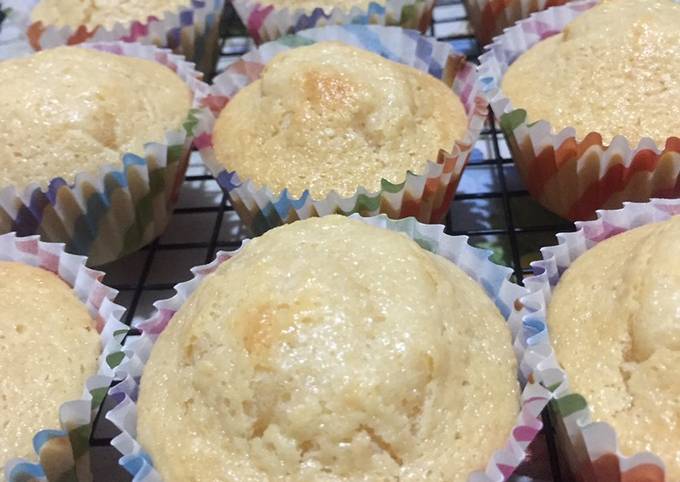 Add in grated Velveeta and blend well. Cheese cupcakes are delicious for breakfast or as a midday snack with your morning coffee or afternoon tea. They also make a great addition to the kids' packed lunches. You can have Cheese Cupcake using 7 ingredients and 7 steps. Here is how you cook it.
Ingredients of Cheese Cupcake
Prepare 2 cups of all-purpose flour.
You need 1 tsp. of Baking powder.
It's 1 cup of grated cheese.
It's 1 cup of evap milk.
You need 1/2 cup of sugar.
It's 2 of eggs.
You need Pinch of salt.
Stored properly in an airtight container, the cupcakes will keep moist at room temperature for up to a week. They are similar in size to a cupcake. They are perfect for serving a crowd! The cheesecake cups are low-calorie and easily portable, and they're a fantastic dessert for parties.
Cheese Cupcake step by step
Line the muffin pan with cupcake liners with your favorite design for easy removal..
In a large bowl, whisk together flour, baking powder, and salt until well-dispersed..
In a medium bowl, beat butter, sugar, and eggs with an electric mixer..
Beginning and ending with flour mixture, add flour mixture in thirds and ½ evap milk in between (⅓ flour mixture, ½ evap milk, ⅓ flour mixture, ½ evap milk, and ⅓ flour mixture) to egg mixture. Beat at low speed with every addition..
Add grated cheese and fold in to combine..
Using a scoop, fill each muffin hole up to ¾ full..
Bake in a 350 F oven for about 20 to 25 minutes or until a toothpick inserted comes out clean and top is golden. Remove from oven and allow to cool..
Guests always go crazy for the soft and decadent cheesecakes and would never guess they're so easy to prepare. Add eggs, one at a time, beating well after each addition. In a large bowl, beat cream cheese until light and fluffy. Add eggs, sour cream, sugar, vanilla, and salt and beat until combined. In a large bowl, beat cream cheese until smooth.