Choco Nutty Crispies. Remove from heat; blend in chunky peanut butter. Chocolate Orange Mousse is one of the best combinations! In a classically made light and bubbly French mousse—beautiful!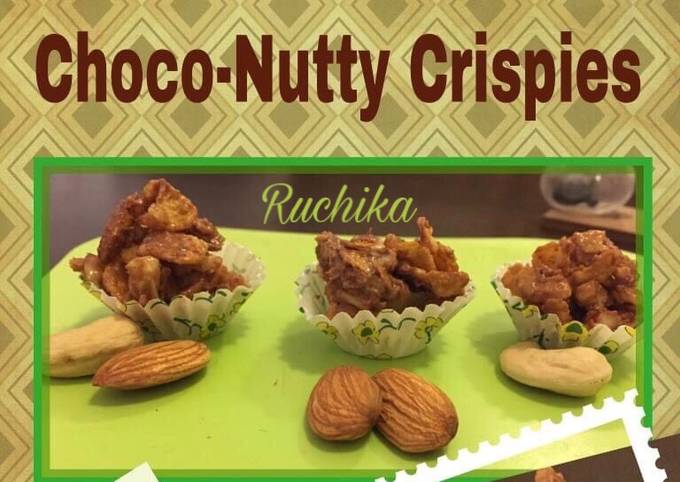 Remove from heat, blend in peanut butter and butter. These delicious chocolate-hazelnut rice crispy treats are a natural version of your favorite childhood treat. Chocolate-covered hazelnuts and rice puffs formed into convenient grab-and-go bars – enjoy! You can have Choco Nutty Crispies using 4 ingredients and 7 steps. Here is how you achieve that.
Ingredients of Choco Nutty Crispies
You need of Nuts -almonds, cashew, walnuts,pistachio, raisins -all roughly chopped as per your liking.
You need of Corn flakes-plain or chocolate.
You need of Chocolate any sweet one (melted).
It's of Honey according to sweetness required.
American Snack Dessert Nuts Healthy Desserts Quick and Easy. Best if served the same day. Add peanut butter, stirring until melted. However, we hope to pique your interest in our Chocolate Nut Crispy Treats with this tiny addition to the traditional recipe with our gourmet Hazelnut Spread with Cocoa and Milk.
Choco Nutty Crispies step by step
Take all the roughly chopped nuts in a bowl Add cornflakes.
Add honey according to sweetness you want and finally add melted chocolate of your choice…I used dairy milk.
Mix all the ingredients well so that chocolate gets coated well.
Make small balls or pick a bunch of mixture and keep as it is in small cupcake wrappers..
Chocolate will soon solidify and take random shape. Or place them in the fridge for 10–15 minutes.
If kids are fussy and don't like nuts, they can be churned in a blender at pulse.
Kids can be involved in making this…they will happily eat their own creation.
This recipe will remind you of the original; however, the addition of one tablespoon of cacao powder enhances both color and flavor. In a large saucepan, melt butter over medium heat. Reduce heat to low and continue stirring until completely melted. Remove from heat and stir in the vanilla. Pour into the prepared baking dish.