Rasmalai cake. Rasmalai cake is a fun fusion dessert to celebrate festivities or any special occasion. It combines flavors of the Indian dessert Rasmalai in the form of cake making it totally irresistible! Egg-free, easy to make, and delicious!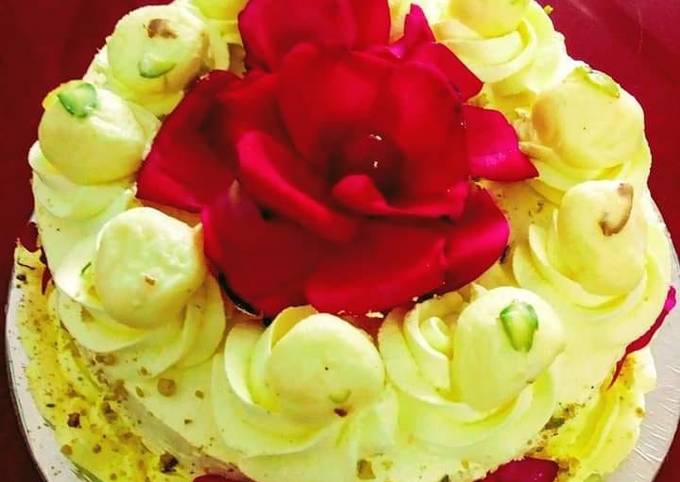 Other ingredients are cardamom, vanilla essence, and nuts. Ingredient notes and prep steps Note: Exact amounts are given in the recipe card further down in the post. Assembling the cake: Cut sponge cake in two parts, apply condensed milk mixture with a help of brush. You can cook Rasmalai cake using 17 ingredients and 12 steps. Here is how you cook that.
Ingredients of Rasmalai cake
Prepare of All Purpose Flour/ Maida.
Prepare of Sugar.
It's of plain Yoghurt/Curd.
You need of Milk.
It's of Oil.
It's of Baking Powder.
It's of Baking Soda.
It's of Vanilla Essence.
You need of Aof Salt.
It's of Decorating the Cake –.
Prepare of Small Rasmalai.
It's of Whipping Cream.
Prepare of Ras from Rasmalai.
It's of Icing Sugar.
Prepare of Vanilla Essence.
Prepare of Yellow Food Colour (optional).
It's of Finely Chopped Pistachios & Almonds.
Spread a layer of rasmalai on the cake. Next evenly spread a layer on icing on the rasmalai. Keep another layer of cake, apply the condensed milk mixture and cover the whole cake with the prepared icing. Rasmalai is a chilled dessert that consists of soft and fluffy paneer dumplings soaked in a thick milk syrup, flavored with cardamom and saffron.
Rasmalai cake instructions
Preheat oven at 180°C for 10-12 mins and grease, line two 6" round baking pans with parchment paper..
In a mixing bowl, add all dry ingredients – all purpose flour, baking powder, baking soda, cardamom powder and salt. Mix it really well. It could be sieved as well..
In another mixing bowl, add the rest of the ingredients – milk, curd, oil, vanilla essence and sugar..
Mix the ingredients with a whisk until the sugar has dissolved..
Now make a well at the center of the dry ingredients and add the wet mixture. Fold it in gently such that there are no lumps..
Pour the batter equally into the greased, lined baking pans..
Bake at 180°C for 30-40 mins until a skewer inserted comes out clean. Invert the cakes and remove the parchment paper. Let them cool down completely..
Add Ras (thick milk from Rasmalai) to the whipping cream mixture. Whip the cream until soft peaks are formed. I added a pinch of yellow food colour..
Trim the tops off the cake to make it even..
Brush liberally with Ras (thick milk from Rasmalai) all over the cake. Spread a layer of whipping cream evenly on the cake..
Place the other cake and apply a layer of cream on the top as well as the sides. Decorate with rasmalai and sprinkle finely chopped pistachios & almonds and rose..
Chill it until ready to serve. Stores well in the fridge for 4-5 days..
Now, transitioning to our cake, it has three components – a spongy cake, saffron milk and ricotta cream and garnished with nuts. Ras Malai Cake is a twist on a very popular Bengali dessert " Ras Malai ". Ras Malai is made with homemade cheese known as " paneer " or "chana". It consists of soft paneer balls immersed in chilled creamy milk. Ras Malai has been always my favorite dessert for as long as I can remember.