Easy banana bread cup cakes. Five Ingredient Banana Cupcakes are a fabulous alternative to making banana bread with overly ripe bananas. The frosting and vegetable can even be omitted in a crunch making them just three ingreidnet cupcakes. In large bowl, stir mashed bananas, granulated sugar, milk, oil, cinnamon and eggs.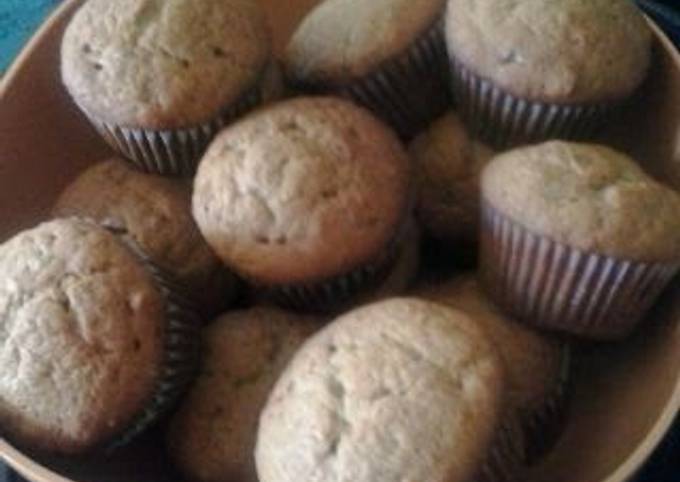 Add egg and combine until just incorporated with dry ingredients. Mix in vanilla, oil, milk and mashed banana. Mash with a fork until combined and only a few small lumps remain. You can cook Easy banana bread cup cakes using 15 ingredients and 11 steps. Here is how you cook it.
Ingredients of Easy banana bread cup cakes
You need 2 cup of all-purpose flour.
You need 1 tsp of baking soda.
You need 1/2 tsp of baking powder.
Prepare 1/2 cup of unsalted butter.
It's 1 cup of sugar.
Prepare 1/2 tsp of salt.
It's 2 of eggs.
Prepare 1 tsp of vanilla extract.
It's 4 tbsp of sour cream.
Prepare 3 of very ripe bananas.
Prepare 1/2 tsp of ground cinnamon.
Prepare 1/2 cup of chocolate chips.
Prepare 3 tbsp of peanut butter, crunchy or creamy.
Prepare 1 cup of chopped walnuts, pecans or any nuts of your choice.
Prepare 3 tbsp of honey (optional).
Stir in bananas, milk and vanilla. Combine flour, baking powder, baking soda and salt; gradually add to creamed mixture and mix well. Fill paper-lined muffin cups two-thirds full. In a bowl, combine flour and baking soda.
Easy banana bread cup cakes instructions
preheat oven to 350°F..
Sift flour, baking soda and baking powder together.
in a seperate bowl, mix butter, sugar and salt with a fork until well mixed.
add eggs, vanilla, sour cream, and cinnamon.
fold in the flour into batter until well mixed.
in a seperate bowl mash bananas and peanut butter with a potato masher or fork.
add mashed bananas to batter and mix well.
add chocolate chips and chopped nuts and mix well.
line cupcake pans with paper cups and fill each cup with about 1/3 cup in each cup.
bake for 30 minutes..
when done, brush the tops with honey if desired makes 16 cupcakes.
In another bowl, whisk brown sugar, water, banana, oil and vanilla. Stir into dry ingredients just until moistened. Mix sugar, oil, and egg until creamy and light yellow in a bowl. Add flour, baking soda, and salt. In a large bowl, combine dry ingredients.