Cookies and Cream Cupcakes. In a large bowl, combine flour, cocoa, sugar, baking soda, baking powder and salt. Allow the cupcakes to cool completely before adding the frosting. Oreo cupcakes both the kids and the adults will love, these Cookies and Cream Cupcakes have a marshmallow filling center, an Oreo frosting, and even an Oreo on the bottom of the cupcake!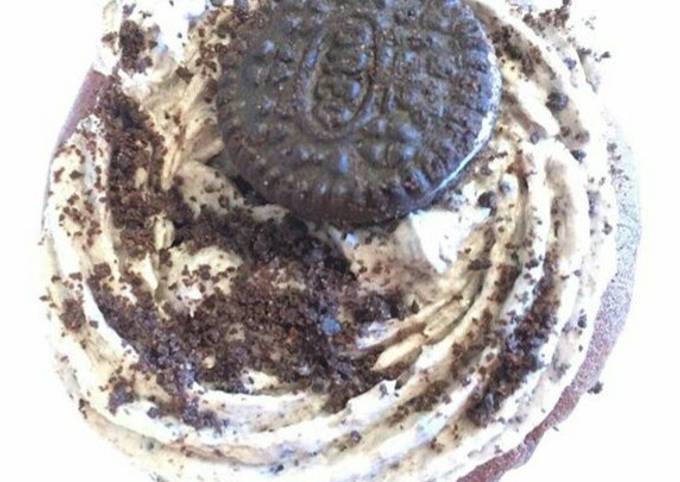 They're the ultimate cookies and cream cupcakes. These Cookies and Cream Cupcakes are fluffy, moist and topped with a delicious vanilla buttercream frosting loaded with crushed Oreos. Hi everyone, it's Jenn from Deliciously Sprinkled! You can have Cookies and Cream Cupcakes using 4 ingredients and 4 steps. Here is how you achieve it.
Ingredients of Cookies and Cream Cupcakes
It's 24 of oreos.
It's 1 box of chocolate cake mix and ingredients needed to make it..
Prepare 1 of tub prepared white icing.
Prepare 1 of mini oreos needed for decorating.
I'm so excited to share these INSANELY delicious Cookies and Cream Cupcakes with all of you today. At low speed, beat cake mix, water, eggs, and sour cream until combined. Remove from pans; cool on racks. In a medium bowl or on a large square of waxed paper, sift together the flour, cocoa powder, baking soda, baking powder and salt and set aside.
Cookies and Cream Cupcakes step by step
Preheat oven to 350. Make cake mix according to box directions. Line cupcake pans with liners for 24 cupcakes..
Remove the tops from 24 oreos and set aside. Place the rest of the oreo cream side up in the cupcake liners..
Fill liners with cupcake batter until 3/4 full. Bake for roughly 19-22 minutes or until done. Let them cool completely..
While cupcakes are cooling, crush 24 oreo tops in a food processor. Reserve 2 tbsp. Mix remaining crumbs with frosting. Frost cooled cupcakes and decorate with mini oreos and reserved crumbs..
In a large bowl, whisk together the milk and vinegar; set aside for a few minutes to curdle. Stir together the dry cake mix with the dry pudding mix in the bowl of an electric mixer. Stir in the eggs, oil, water, and sour cream. Mix in salt, baking soda and cocoa powder, followed by flour. Mix in sour cream, followed by warm milk mixture.