Pear Mascarpone Cake. Add mascarpone and blend until smooth. Thanks to the addition of butter the cake gets its crusty and buttery skin. Addition of oil keeps the cake moist and fresh for longer.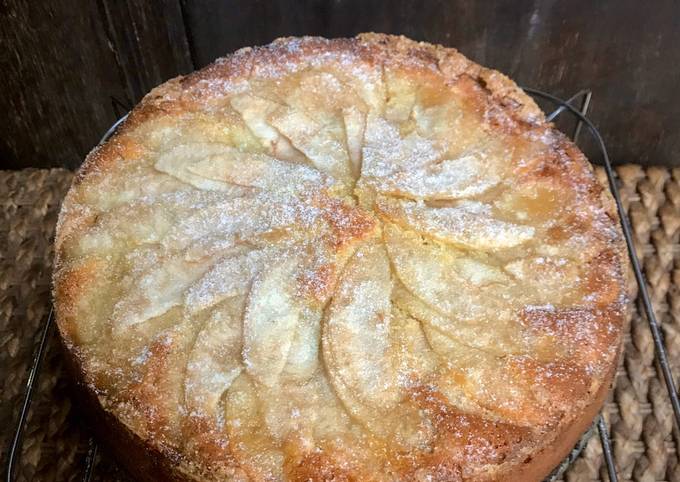 A swirl of mascarpone in the frosting creates a creamier texture without the tang generally associated with a cream cheese finish. This one-bowl cake will be a crowd-pleaser this season! cake, fruit, gouter, mascarpone, Pears, teatime This Italian pear cake is so elegant in its simplicity. Italian cakes, homemade-every-day-cakes were very rarely, if ever, frosted. You can cook Pear Mascarpone Cake using 14 ingredients and 8 steps. Here is how you achieve it.
Ingredients of Pear Mascarpone Cake
Prepare of unsalted butter.
It's of mascarpone.
It's of confectioners sugar.
You need of vanilla extract.
You need of large eggs.
It's of all-purpose fluor.
You need of granulated sugar.
You need of cornstarch.
You need of baking powder.
You need of baking soda.
You need of salt.
Prepare of pear (290 g) diced.
You need of pear (290 g) sliced.
You need of granulated sugar.
But most of the times they are dusted with icing sugar or unsweetened cocoa. In a medium bowl, at medium speed beat eggs and sugar until creamy, add mascarpone and continue beating until smooth. The cake bakes up high and fluffy, and the berries add a fresh fruity flavor. Her supermoist cake, flavored with molasses for a mellow sweetness, is excellent with wine-poached pears or a topping of whipped mascarpone and sugary, slightly bitter confited orange peel.
Pear Mascarpone Cake instructions
Preheat the oven to 170 degree Celsius.
At room temperature, mix the butter and confectioners sugar on low speed until creamy.
Add the mascarpone and the vanilla extract, then add the eggs one by one.
Mix the dry ingredients.
Whisk the dry ingredients into the wet gently. Make sure it's well incorporated before adding the pear.
Add the diced pear into the batter.
Grease a 22 cm springform pan with butter and flour. Pour the batter in. Decorate the sliced pear on top of the batter, leave uncovered batter as little as possible. Sprinkle a handful of sugar on top.
Bake for 1 hour in 170 degree Celsius then for 30 minutes in 180 degree Celsius. Cool on a wire rack for about 20 minutes before removing the springform pan. Dust the cake with confectioners sugar and enjoy it with your afternoon tea..
The cake is ready when an inserted knife comes out clean. In a bowl, whisk together the flour, baking powder, salt, and spices. Combine the pears and the sugar and let stand for one hour. In a bowl, beat the eggs, egg yolk, sugar, butter and honey together until light and fluffy. Gradually add the milk, beating well and then sift in the flour, baking powder and salt.