Italian tiramisu. Tiramisu is an Italian dessert made of savoiardi ladyfingers soaked in coffee, arranged in layers and filled with a cream made with mascarpone and eggs. Try Savoiardi Ladyfingers BALOCCO, a company famous in Italy for its pastries and biscuits. Add mascarpone cheese and beat until smooth.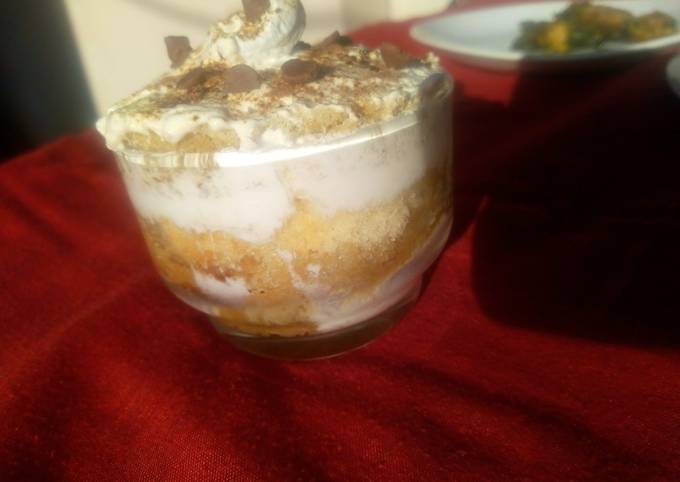 It's made of coffee-dipped ladyfingers with sweetened mascarpone cream and dusted with cocoa before serving. Have you ever asked yourself how to make Tiramisu? To sum it up, whisk egg yolks and sugar until pale, add the mascarpone and whisk until creamy. You can have Italian tiramisu using 6 ingredients and 12 steps. Here is how you cook that.
Ingredients of Italian tiramisu
It's of Vanilla cake.
You need of Sugar.
Prepare of Instant coffee powder.
It's of Whipping cream.
Prepare of Chocolate chips.
It's of Vanilla extract.
In Italian, Tiramisu is spelled with an accent at the end: Tiramisù. As the recipe is a composition of tasteful ingredients, also the name Tiramisù is a composition of three different words: Tira is the imperative of the verb tirare, which means pull. Dhaval Badiani: Roulette and Tiramisu are the best !! Carolyn Kao: I'm in love with the mango mousse.
Italian tiramisu step by step
Get one glass bowl please first layer of cake.
Add the vanilla extract with heavy cream beat will.
Make sugar syrup.
Take one Brown and add one teaspoon of instant coffee powder and little bit of water to dissolve.
Add one teaspoon of sugar syrup with cake layer.
Add instant coffee liquid 1 teaspoon.
Please the layer of whipping cream.
Then start next year, so place next cake,.
Add sugar syrup and in coffee liquid.
And place the whipping cream.
Do like this another step.
Finally dost some coffee powder and chocolate chips, now our tiramisu ready for serving..
Tiramisu tasted like your typical frozen, out the box tiramisu. Now let's get to the service, service was poor. Definitely expected more from our server. We felt very rushed and a not-so-pleasant attitude from him. From rushing us to order right when we sat down, to rushing us through our appetizers by asking for or plates before we were even done.