2 Ingredient Tofu Scones. I wanted to use up chocolate chips so came up with this recipe. I made these with simple and healthy ingredients. For the cookies photographed, I used firm tofu and puréed it in a food processor.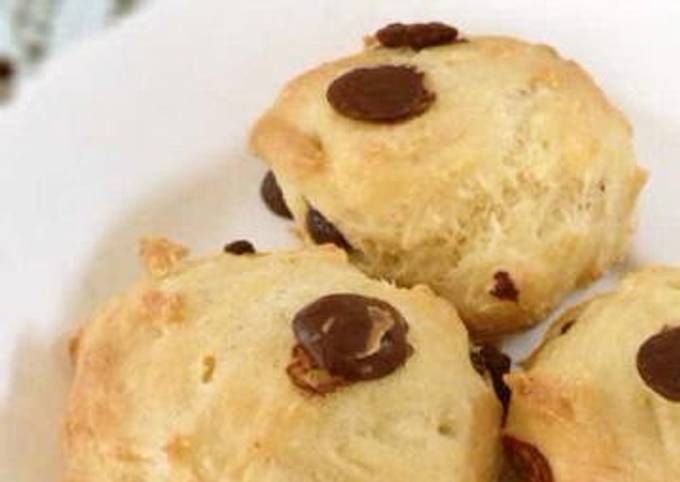 Line an oven tray with baking paper. In a large bowl, sift flour. With a bread & butter knife, quickly mix to a soft sticky dough. You can have 2 Ingredient Tofu Scones using 3 ingredients and 5 steps. Here is how you cook it.
Ingredients of 2 Ingredient Tofu Scones
You need 200 grams of Pancake mix.
You need 150 grams of Tofu (silken or firm).
You need 30 grams of Chocolate chips.
On a floured surface, turn out the mixture & knead gently. I recommend Dove's Farm self-raising blend as it contains xanthan gum and makes the scones less likely to fall apart. You may also need to adjust the amount of flour ever so slightly. These are the most melt-in-your-mouth biscuits that you would ever find on the breakfast table of the most southern houses!
2 Ingredient Tofu Scones instructions
Purée the tofu. Use a whisk for silken tofu and a food processor for firm tofu. (You may want to add a little bit of water when using a food processor.).
Add pancake mix to the tofu, mix well to combine..
Fold in the chocolate chips..
Line a baking sheet with parchment paper and drop on dollops of dough using a spoon or other implement..
Bake in an oven preheated to 180℃ for 15 minutes, and they're done..
Chinese tofu pudding or 豆腐花 is arguably one the healthiest desserts: you can adjust your own sweetness, and it is made of soy beans! It is also very delicately delicious, the texture is silken smooth, melts in your mouth, with a hint of gingery sweetness. This makes the dough a little runny but it is about the same as drop scones. Grate butter into flour mixture on the large holes of a box grater; use your fingers to work in butter (mixture should resemble coarse meal), then stir in raisins. A seemingly magical cooking hack, two-ingredient dough is made from combining self-rising flour and plain fat-free Greek yogurt—that's it!