White Chocolate Cupcake with Peanut Butter frosting. Beat butter in your mixer, then add in the powdered sugar, melted white chocolate and a drizzle of milk. Keep beating until fluffy and fully combined, then transfer to a frosting bag. Here is how you cook that.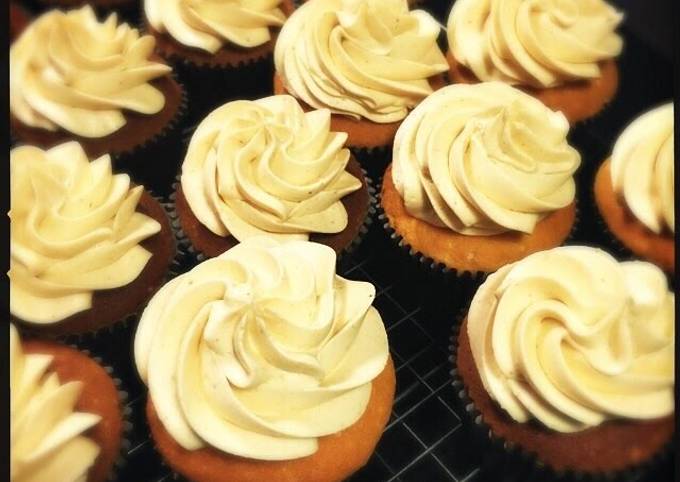 You can also use White Chocolate Ganache/Buttercream. In a small bowl mix the sugar, flour, baking powder and cocoa powder. If you love chocolate and peanut butter – then these Chocolate Cupcakes with Peanut Butter Frosting are for you. You can cook White Chocolate Cupcake with Peanut Butter frosting using 13 ingredients and 5 steps. Here is how you cook it.
Ingredients of White Chocolate Cupcake with Peanut Butter frosting
It's of Cupcake.
Prepare 5 of egg whites (room temperature).
Prepare 3/4 cup of whole milk (divided).
Prepare 3/4 cup of unsalted butter, softened.
You need 1 3/4 cup of granulated sugar.
Prepare 3 1/2 oz of melted white chocolate.
It's 2 1/2 cup of cake flour.
You need 1 tbsp of baking powder.
You need of Peanut Butter Frosting.
It's 1 cup of unsalted butter softened.
Prepare 2 cup of powdered sugar.
It's 1/3 cup of creamy peanut butter.
You need 1 1/2 tbsp of whole milk.
They start with super moist chocolate cupcakes that have a soft cupcake crumb and rich chocolate flavor. Then they're topped with fluffy peanut butter frosting. Add in the peanut butter and continue mixing until well combined with the butter. Directions In a large bowl, cream the peanut butter, butter and sugars until light and fluffy.
White Chocolate Cupcake with Peanut Butter frosting instructions
For the cake, whisk together the egg whites, and 1/4 cup of the milk in small bowl until slightly combined. Set aside..
In mixing bowl, beat butter and sugar for 2 minutes on medium. Add in dry ingredients and mix until combined. Slowly in a steady stream add in the egg white mixture. Beat in remaining milk and melted white chocolate..
Fill cupcake liners half full with batter and bake in a 350°F oven for about 15 minutes. Remove and cool in pan 5 minutes then transfer to a wire rack. Cool completely before frosting..
For frosting, beat butter 5 minutes until pale in color. Add sugar, peanut butter and whole milk. Beat an additional 3-5 minutes until fluffy. Fill a disposable pastry bag with frosting (no tip on end)..
.
Combine the flour, baking soda, baking powder and salt; add to the creamed mixture alternately with buttermilk, beating well after each addition. Prepare cake mix according to package directions. Place a peanut butter cup in each; fill two-thirds full with remaining batter. Put a small dollop of frosting on cake board/cake plate so the cake sticks. Put on the first layer, pipe a high border on outer edge of cake layer, pipe shorter buttercream on the inside of of outer edge.