Scone Sale- Tomato and Blue Cheese. Gently fold in the sun-dried tomatoes, blue cheese and chives until all combined. Brush egg wash over the scones and sprinkle a little salt and pepper over the top. In a large bowl, whisk together the oil, yogurt, Worcestershire and salt and pepper, to taste.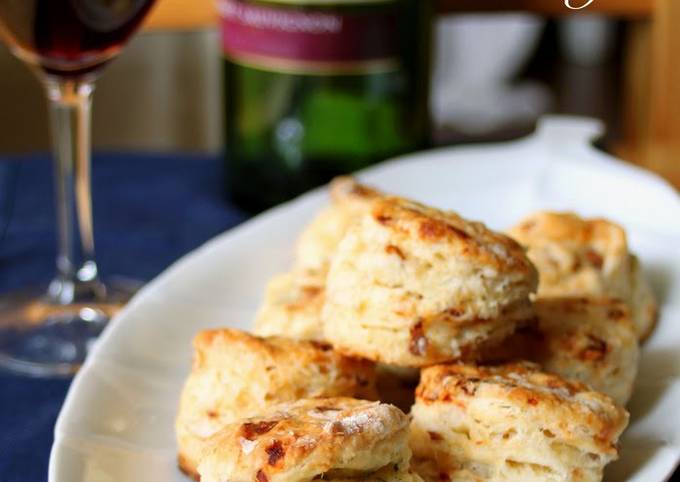 Add the blue cheese, spinach, parsley, and green onions. Make a well and add the eggs and half the buttermilk. Mix yogurt, mayonnaise, dill, salt, pepper, and garlic powder in a bowl. You can cook Scone Sale- Tomato and Blue Cheese using 10 ingredients and 12 steps. Here is how you cook it.
Ingredients of Scone Sale- Tomato and Blue Cheese
Prepare 100 grams of ★Cake flour.
It's 100 grams of ★Bread (strong) flour.
It's 1 tsp of ★Baking powder.
You need 1 pinch of ★Salt.
You need 50 grams of Chilled butter (or olive oil).
Prepare 1 tbsp of ☆Honey.
You need 120 ml of combined ☆Yogurt (you can also use a soy milk or milk+a bit of vinegar if you don't have yogurt).
You need 30 grams of Blue cheese.
It's 2 of heaping tablespoons finely chopped Partially dried tomatoes.
Prepare 30 grams of Walnuts or pine nuts, if desired.
Crumble in blue cheese and mash with a fork, stirring until thick and creamy, but still chunky. Place lettuce in a large bowl and add bacon, mushrooms, cheddar cheese, red onion, and nuts (if using). Toss briefly just to combine ingredients. Remove the biscuit dough from the fridge.
Scone Sale- Tomato and Blue Cheese instructions
Mix the ★ dry ingredients together..
Put the butter into the bowl with the dry ingredients, and sprinkle it with the flour. Hold a whisk straight up and down, and break up the butter into small bits by hitting the butter repeatedly with it..
Once the mixture is crumbly, add the chilled ☆ ingredients. (Try adding milk a bit at a time if it doesn't come together.).
Add the dried tomatoes and blue cheese, and mix with cutting motions with a spatula (the dough in the photo is made using whole wheat flour)..
Stop mixing after it has blended to a certain point, bring together into one ball with your hands. (It will be crumbly at first, but will gradually come together.).
Wrap in plastic wrap and chill in the fridge for 20~40 minutes. (You can shorten the time when you are in a hurry.).
Divide the dough into 2 equal portions and stack on top one another, then roll out with a rolling pin, and continue folding it on top of itself 3 more times..
Finally, roll out to 2 cm thick with a rolling pin, and cut out shapes with a small cup. Bake in an oven preheated to 390°F/200°C for 15-20 minutes and it is done!.
When making in a food processor: freeze the butter, place together with ★ into the food processor, and blend until it is finely crumbled..
Give the blender a quick spin until the flour becomes smooth like panko, then add chilled ☆ ingredients, and pulse repeatedly..
Add dried tomatoes and cheese once the flour begins to lump together, and give it another spin. Stop immediately once the dough comes together, and place into a plastic bag..
After letting the dough sit in the fridge, roll out and cut shapes out just like in Step 8, bake in an oven preheated to 390°F/200°C for 15~20 minutes, and it is done!.
The combination of Dijon, cheddar and parmesan produce a fully-flavoured taste, but you can vary it in any way to suit your taste buds. Scones are ready in mere minutes – an easy way to liven up your repertoire. Most of my tomato toast varieties include burrata cheese, so I left that out today in order to really switch things up. And not just any old boring blue cheese, We're making blue cheese mayo. Which is really just a fancy way for saying that we're stirring crumbled blue cheese into mayo.