Crab Rangoon;. Combine garlic, cream cheese, crab, green onions, Worcestershire sauce, and soy sauce in a bowl. Moisten the edges with water and fold the wonton skin diagonally to form a triangle, pressing edges to seal. For the wontons: Combine the crab, cream cheese, green onions, soy sauce and Worcestershire sauce in a large bowl.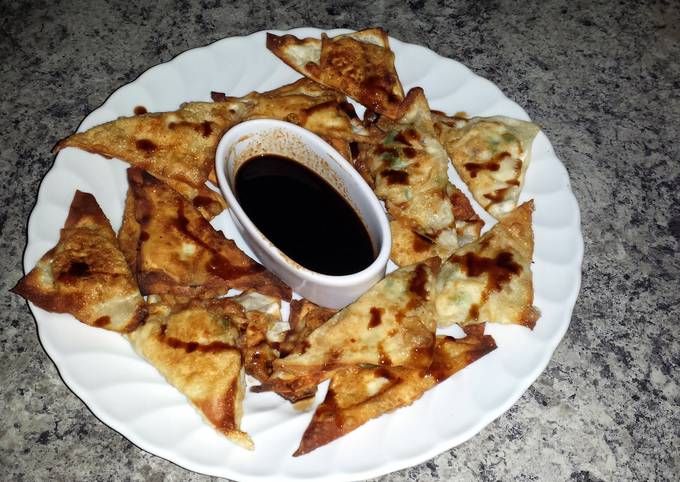 They're basically little pockets of cheesy crab dip wrapped up in a crispy wonton shell. Crab Rangoon Bite into these golden appetizers, and you'll find a creamy crab filling that rivals restaurant fare. Best of all, these crowd-pleasers are baked and not fried, so you don't have to feel guilty about enjoying them. You can have Crab Rangoon; using 4 ingredients and 5 steps. Here is how you achieve that.
Ingredients of Crab Rangoon;
It's of wonton wraps.
You need of green onion.
You need of light cream cheese.
You need of I used real crab:) but you can use can or immitation!.
DIRECTIONS Whip together the sour cream, cream cheese and soy sauce and sugar until smooth. Crab Rangoon is one of the most popular Chinese food appetizers on the menu in any of a million local Chinese Food takeout spots, second perhaps to egg rolls. These wontons are a bit different than the Panda Express Cream Cheese Rangoon I made a year ago because of the addition of imitation crab meat. Many people wonder if crab Rangoon is authentic and the answer is no.
Crab Rangoon; instructions
mix all ingrediants togther…
wet the wonton wraps with water.
put a little amount of the mixed ingrediants in the corner of the wonton wrap.
fold the corner over to the other corner.
fry them in oil!.
It is a classic American creation even though they are mostly served in Chinese restaurants. These dainty appetizers are basically fried wontons filled with cream cheese, with real crab meat in the filling. How To Make Crab Rangoons: In a medium bowl beat the cream cheese, sugar, and imitation crab until creamy. Crab rangoon is a pure distillation of tiki fusion weirdness. There was a strange, circular movement between tiki food and American Chinese food.