Fruit – Fall Crumble (Pear). In a bowl, combine pears, cherries and lemon juice; set aside. In another bowl, combine vanilla, brown sugar, cornstarch and cinnamon. Sprinkle over pear mixture and gently toss to coat.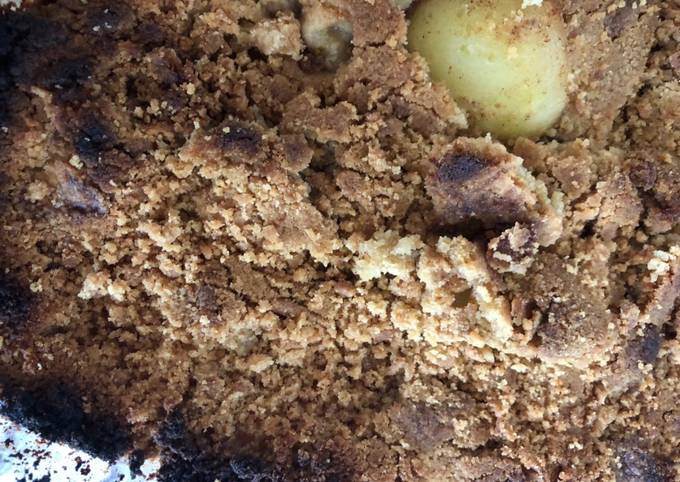 Add pears to pan and toss in lemon juice (if you want-if you're quick with the rest there's really no need for the lemon juice) In a large bowl, combine the sugar, oats, flour, cinnamon, ginger, nutmeg and vanilla. Cut in butter until crumbly and then add the nuts. A fruit crumble, with its bubbling warm fruit underneath a buttery-crisp topping, is a much-loved dessert any time of year. You can have Fruit – Fall Crumble (Pear) using 8 ingredients and 6 steps. Here is how you cook it.
Ingredients of Fruit – Fall Crumble (Pear)
Prepare of Crumble.
Prepare 400 Grams of Plain Flour.
Prepare 200 Grams of Brown Sugar.
You need 200 Grams of Butter, cut into cubes.
You need of Filling.
It's 500 Grams of Pears, peeled and cored.
You need 100 Grams of Brown Sugar.
You need 2 Teaspoons of Ground Cinnamon.
Here you'll find recipes for apple crumble, blueberry crumble, pear crumble, cherry crumble, mixed-fruit crumbles, and more. Whether they're made with a classic crumble topping or with something new mixed in, these fruit crumble recipes are perfect for parties, picnics. Peel, core, and cut the pears and apples into large chunks. Place the fruit in a large bowl and add the zests, juices, sugar, flour, cinnamon, and nutmeg.
Fruit – Fall Crumble (Pear) step by step
Preheat Oven to 180oC/350oF/Gas Mark 4..
Place the flour and sugar in a large bowl and mix well..
Taking a few cubes of Butter at a time, rub it into the flour mixture, until it resembles breadcrumbs..
Place the Fruit, cubed, into a large bowl, sprinkle the Sugar and cinnamon over the top and mix gently, to not break up the fruit..
Butter an ovenproof dish and spoon the fruit into the bottom. Sprinkle over the crumble mix over the top..
Bake in the oven for 40-45 minutes until it's golden brown on top and the fruit mixture is bubbling. Serve with custard!.
Dutch Pear & Nutmeg Pie is a warm, wonderful pie filled with Fall's other sweet, juicy and often overlooked fruit, delicately spiced with grated nutmeg and topped with a sandy, buttery streusel crumble topping. This Fall, switch up your Thanksgiving pie game with a pear pie instead of apple! Once done, remove and let cool for a few minutes. Serve and top with your favorite vanilla ice cream. Who doesn't love healthy (paleo friendly) fall treats?