Oreo Cupcakes With Cream cheese Icing. Frosting: Combine cream cheese and butter and whip until light and smooth. Add vanilla and as much powdered sugar as needed for desired taste. Feel free to play around with the Oreos.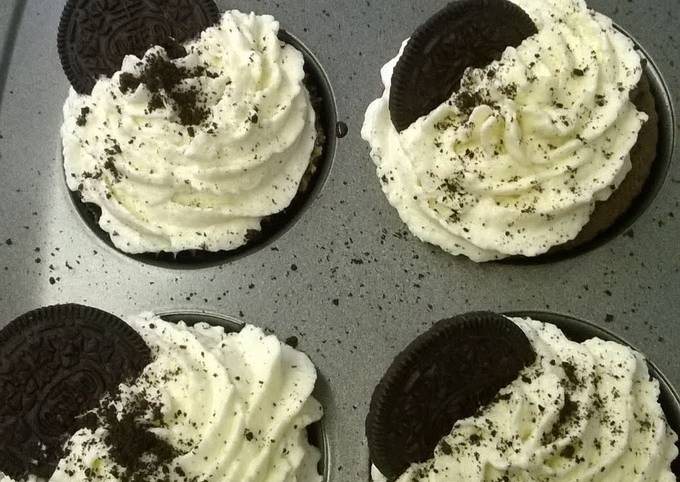 Add this mixture to the cake mix (sift cake mix for an easier mixing) Oreo Cupcakes with Cream Cheese Frosting Recipe. In a food processor or manually, finely crush the oreos into crumbs (use the whole oreo and cream center). With a rubber spatula or spoon, mix the oreos into the frosting. You can have Oreo Cupcakes With Cream cheese Icing using 17 ingredients and 7 steps. Here is how you achieve it.
Ingredients of Oreo Cupcakes With Cream cheese Icing
It's of Devil's food cake.
It's 6 oz of Cake flour.
You need 1 oz of Coco.
It's 1/2 tsp of Salt.
Prepare 1 tbsp of Baking powder.
It's 1/2 tsp of Baking soda.
It's 3 1/2 oz of Room temperature unsalted butter and 8 oz sugar.
You need 5 oz of Milk.
It's 3 each of Small egg.
You need of Simple syrup.
Prepare 1/2 cup of Sugar.
You need 1/2 cup of Water.
It's of Cream cheese icing.
You need 12 oz of Room temperature Cream cheese.
You need 5 oz of Room temperature Butter.
It's 3 oz of 10 x powder sugar.
Prepare 1 tsp of Vanilla extract or cookies and cream extract.
In a medium bowl, combine the flour, baking powder and salt; stir together with a fork to blend and set aside. In the bowl of an electric mixer, combine the butter and sugar and beat together. Mix in powdered sugar one cup at a time. Spoon batter over top and bake according to recipe instructions.
Oreo Cupcakes With Cream cheese Icing step by step
In a mixing bowl cream the cake flour, coco,salt,baking soda,baking powder , and butter for 3 minutes.
Then add the sugar and vanilla extract.
Mix the eggs and milk then add it in to the mixture gradually.
Spray the cupcake pan with oil pan spray then place the cupcakes liners and start filling the cupcakes liner and bake them until the. Center of the cupcakes are firm on 350°F.
The key for a moist cupcake is simply syrup which is equal parts of sugar and water so mix the sugar and water in a cooking pan and bring it to a boil.
After the cupcakes are cooled down grab a pastry brush or a spoon and water the cupcakes with the simple syrup.
For the cream cheese icing : in a mixing bowl cream the cream cheese and butter until it is light and fluffy for about 5 min then add the powder sugar and vanilla or cookies and cream extract then give it a mix for about 5 min and the icing is ready to. Pip on the cupcakes and you could place an Oreo cookie on top of the icing.
Oreo frosting: Mix the butter with electric beaters until light and fluffy. Add powdered sugar and cream and mix well. Top with an Oreo, if desired. If the consistency isn't like whipped cream, keep mixing! Place an Oreo on the bottom of each cupcake liner or twist the Oreo and put one cookie at the bottom of the pan with cream side up [I did this].