Easy chocolate cupcakes. In a medium bowl, beat the butter and sugar with an electric mixer until light and fluffy. Mix in the eggs, almond extract and vanilla. Combine the flour, cocoa, baking powder and salt; stir into the batter, alternating with the milk, just until blended.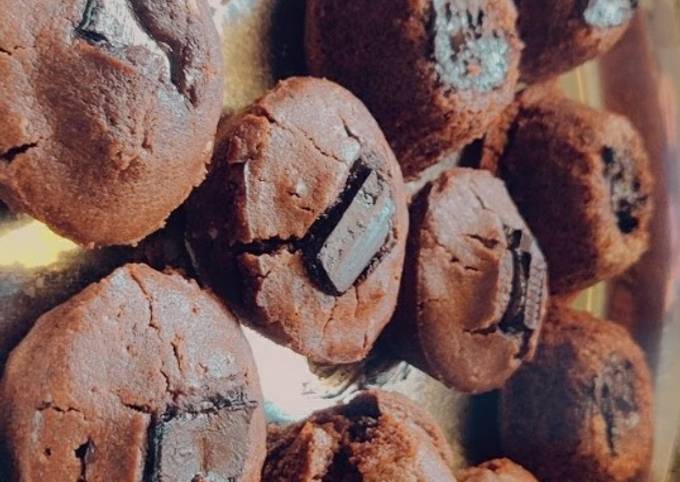 In a large bowl, cream butter and sugar until light and fluffy. Add eggs, one at a time, beating well after each addition. Then, combine flour, cocoa, baking soda and salt. You can have Easy chocolate cupcakes using 19 ingredients and 1 steps. Here is how you cook that.
Ingredients of Easy chocolate cupcakes
You need of Ingredients:.
Prepare 4 pieces of Oreo biscuit.
It's 8-10 pieces of Marie biscuit.
It's 2 tbsp of coco powder.
Prepare 3 tbsp of sugar.
Prepare 1 of small cup wheat flour.
You need 1 tbsp of eno.
Prepare 1/2 cup of milk.
Prepare of Chocolate pieces to put in the cupcake.
It's 1 of Step.
You need 1/2 cup of water.
Prepare 1 tbsp of ghee/ melted butter.
Prepare of Preheat the oven to 200° C for 8-10 minutes.
It's 2 of Step.
It's of Grind Oreo biscuit, Marie biscuit and sugar until it's fine powder.
You need of add the mixture to the flour and coco powder. Add the milk, water and butter mixture and mix it well until smooth. Add the eno and beat. Grease the cupcake moulds and pour the batter into the moulds.
It's 4 of Step.
Prepare of Bake the cupcakes in the center of the oven for about 10 minutes, until springy and a toothpick inserted in the center comes out clean. Let the cupcakes cool slightly, then transfer.
You need 3 of Step.
The next step is to combine the buttermilk and water. Mix in the eggs one at a time, and then mix in the vanilla extract. Next, beat in the buttermilk, sour cream, and warm water. The water should be warm (not quite bath water temp), not hot.
Easy chocolate cupcakes step by step
.
Then, stir in the flour, cocoa powder, baking soda, and salt. Place butter and chocolate in a separate, large heatproof bowl. A delicious gluten free cupcake recipe using rice and millet flour. The millet lends a bit of a cornbread taste to it. Cupcakes: Whisk the flour, cocoa powder, baking powder, baking soda, and salt together in a large bowl until thoroughly combined.