Basic Scones. Grate butter into flour mixture on the large holes of a box grater; use your fingers to work in butter (mixture should resemble coarse meal), then stir in raisins. Serve scones warm with butter and/or jam. Tips from our Bakers Stir in the sugar and enough milk to mix to a soft dough.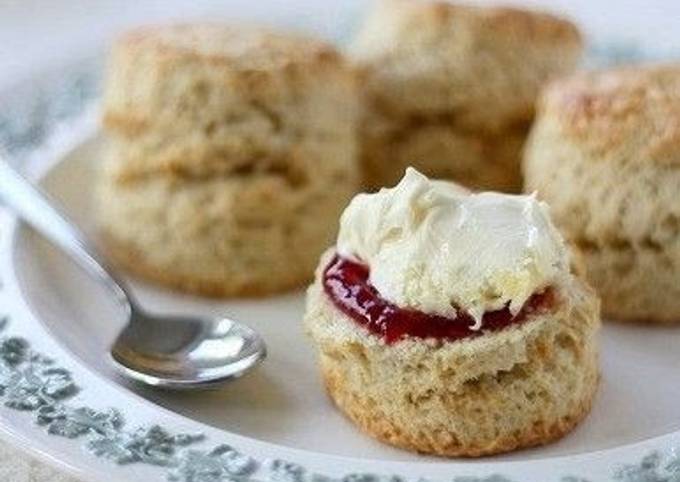 Scones are a biscuit-like quick bread, usually made of wheat or oatmeal flour and baking powder for leavening. The dough is rolled into a disc, from which wedges are cut and baked until golden brown with a flaky, soft interior. Scones can be sweet or savory and are often eaten for breakfast, but are also served with afternoon tea. You can cook Basic Scones using 7 ingredients and 10 steps. Here is how you achieve it.
Ingredients of Basic Scones
It's 200 grams of ●Cake flour.
Prepare 30 grams of ●Sugar.
You need 2 tsp of ●Baking powder.
It's 50 grams of Unsalted butter.
Prepare 100 ml of Milk.
You need 1 tbsp of Vegetable oil.
Prepare 1 pinch of Salt.
A basic scone recipe for tender, moist, butter-y scones that are so quick and easy to make! Perfect as-is with just butter and jam, or you can get creative and add fruit, spices, or chocolate. This simple English scone recipe will hit the spot if you're craving some tender scones with clotted cream and jam! English scones are such a delight.
Basic Scones instructions
Sift together the flour and baking powder..
Add the ● ingredients to a bowl. Mix them together lightly and then add the butter, cut into small cubes. Rub the mixture together with your fingertips until you get something that looks like panko..
Make a well in the center of the panko and pour in the milk and vegetable oil. Fold the wet ingredients in with a spatula..
Dust a work surface with flour and roll the dough out until just over 1 cm thick. Fold the dough in half and press it down gently. Then use some cutters to cut out some shapes..
Preheat the oven to 200°C..
Lightly brush the tops of the scones with milk and leave them to sit in a warm place for 15 minutes. Then bake in the oven for 15-20 minutes..
The scones in the recipe photo have been served with clotted cream and strawberry jam..
I'm also fond of adding tea leaves into the mixture at Step 2 (I recommend Earl Grey.).
These "Mixed Herbs & Seeds Scones",, go really well with cream cheese https://cookpad.com/us/recipes/148094-mixed-herbs-seeds-scones.
"Cheddar, Dill & Red Onion Scones",. https://cookpad.com/us/recipes/153953-cheddar-dill-and-red-onion-scones.
Warm and soft inside that makes just the right base for almost any topping or add-in. My family generally makes scones with chocolate chips. Return to the freezer, and store for up to a month. Bake as directed (without thawing), adding a couple of extra minutes in the oven if needed. Feel free to slightly decrease, but keep in mind that the scone flavor and texture will slightly change.