Mixed Herbs & Seeds Scones. In that case, the herbs should be finely chopped before measuring and mixing. If you're mixing fresh herbs you will find it easier to triple the recipes – and you'll end up with the same flavoring power as the dried, in other words, one teaspoon of dried equals one tablespoon of fresh. Oregano, Basil, Thyme and Marjoram are a lovely combination for the classic mixed herbs that we can buy in a supermarket, however we can play with the ratios and the basic ingredients.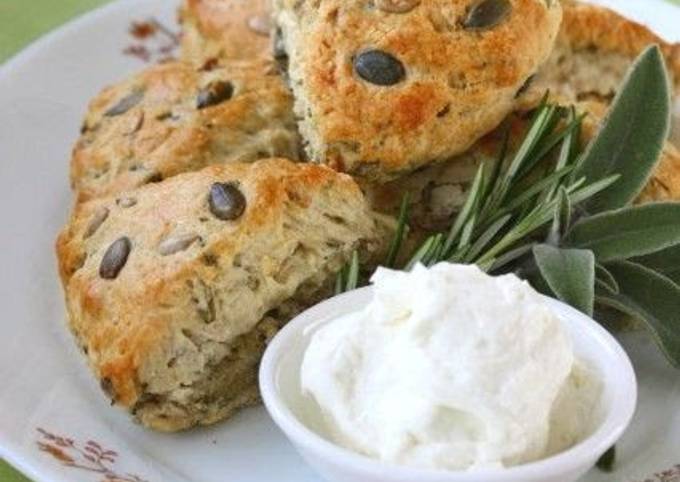 Health benefits of dried mixed herbs • A jar of mixed herbs typically comprises basil, marjoram, oregano and thyme, each of which has high levels of healthy antioxidants. Most Jamaicans used mixed herbs to season our meat, and you might be wondering what are mixed herbs. Mixed herbs are a mix of different dried herbs. You can cook Mixed Herbs & Seeds Scones using 8 ingredients and 8 steps. Here is how you cook that.
Ingredients of Mixed Herbs & Seeds Scones
Prepare 200 grams of ●Cake flour.
Prepare 2 tsp of ●Baking powder.
You need 3 tbsp of ●Your choice of finely chopped fresh herbs (rosemary, sage, thyme, basil, etc.).
It's 2 of handfuls Your choice of seeds (I used sunflower seeds, pumpkin seeds, and pine nuts).
Prepare 50 grams of Unsalted butter.
Prepare 100 ml of Milk.
It's 1 tbsp of Vegetable oil.
You need 1 pinch of Salt.
Herbs along with spices enhance the taste and smell of food. A jar of mixed herbs typically comprises basil, marjoram, oregano and thyme, each of which has high levels of healthy antioxidants. One may also ask, what are dry herbs? Air-drying works best for low-moisture herbs like marjoram, oregano, rosemary and dill.
Mixed Herbs & Seeds Scones step by step
Sift together the flour and baking powder..
Add the ● ingredients to a bowl. Mix them together lightly and then add the butter, cut into small cubes. Rub the mixture together with your fingertips until you get something that looks like panko. Then mix in the seeds..
Make a well in the center of the panko and pour in the milk and vegetable oil. Fold the wet ingredients in with a spatula to create a dough..
Turn the dough out onto a dusted surface and use your hands to press it into a 15 cm diameter circle that's about 2.5 cm thick. Being careful not to cut all the way through, make 4 cuts in the surface of the dough to create 8 sections..
Preheat the oven to 200°C..
Lightly brush the tops of the scones with milk and leave them to sit in a warm place for 15 minutes. Then bake in the oven for 15-20 minutes..
The scones are ready. They'll taste especially delicious while they're still warm..
I decorated the top of the scones with a few seeds as well as mixing them into the scones themselves in the recipe photo..
Combine all ingredients in a large mixing bowl; stir well. Spoon one-fourth of mixture into container of an electric blender; process until coarsely ground. Repeat procedure with remaining herb mixture, processing one-fourth of mixture at a time. Take the guesswork out of seasoning with this expertly blended mix of traditional herbs, great for perking up any dish. Starring marjoram, basil, oregano and thyme, this flavour sensation is ready to add a little touch of magic to all your family favourites.