Dark Chocolate Cake Pop. Exceptional Food Picked At Its Peak By Our Partners & Brought To Your Door For Free. Combine flour, sugar, cocoa, baking soda, baking powder, and salt in a bowl. Add in eggs, coffee, milk, oil, vinegar, and mint extract to the flour mixture.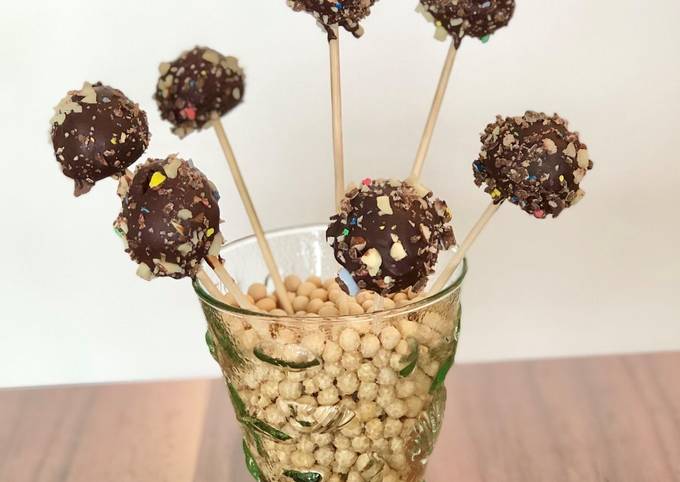 Dip a lollipop stick into the melted dark chocolate, then place into the cake ball. Once you have put sticks in every ball, dip each one into the chocolate to entirely cover the ball. Then either leave plain or add the sprinkle decorations of your choice. You can cook Dark Chocolate Cake Pop using 6 ingredients and 10 steps. Here is how you achieve that.
Ingredients of Dark Chocolate Cake Pop
It's of Dark Chocolate.
Prepare of Oreos.
You need of Cream cheese.
Prepare of Salt.
It's of Almond crumbs.
You need of Candy sprinkles.
Add the melted dark chocolate (you can melt this gently in a microwave or in a small bowl over boiling water). Gradually sift and mix in the flour and cocoa powder. Add the milk and mix all of the ingredients until they come together to form a smooth batter. Make sure that your Cake Pop Maker is pre-heated and that each cavity has been coated with an oil spray.
Dark Chocolate Cake Pop step by step
Crush the oreo cookies into fine crumbs.
Add cream cheese and salt to the cookie mixture and stir until evenly combined.
Line a tray with parchment paper. Roll the mixture into small tight balls and place on the parchment paper.
Freeze until slightly hardened, around 30 minutes.
Melt the chocolate under indirect heat.
Insert a wooden stick into the frozen balls and dip the balls into the melted chocolate until coated.
Sprinkle the cake pops with almond crumbs and candy sprinkles.
Fix the cake pops into a cup filled with beans.
Freeze until chocolate hardens, about 15 minute.
Wrap it nicely as a lovely gift for kids🎈.
Add a dessert spoon sized amount. Ingredients for Dark Chocolate Cake Pops. Make the cake: Whisk the flour, granulated sugar, cocoa powder, baking soda, and salt together in a large bowl. Dip one end of a cake pop stick into the melted chocolate and then insert it into the cake ball. Repeat with all the cake balls.