Easy Scones (Plain). Sift flour, baking powder and salt into a bowl and rub in the butter until the mixture resembles breadcrumbs. Add all the milk and mix lightly into a soft dough. Brush with a bit of milk and top with coarse sparkling sugar.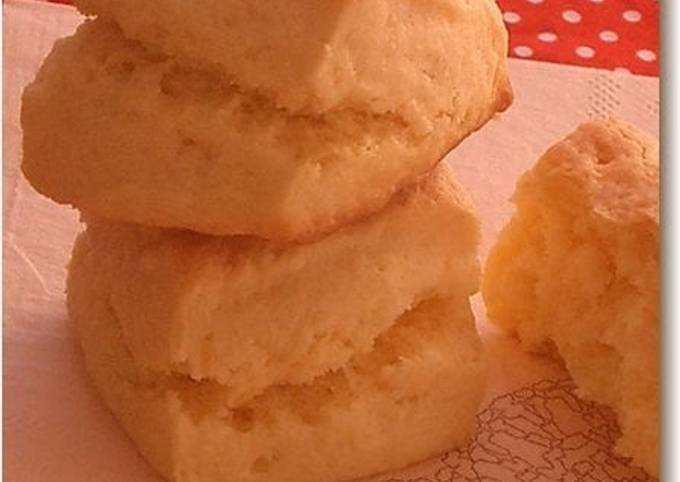 Place flour in food processor, then butter. Pour milk all over the flour (don't pour in one place). Start by combining the flour, baking powder and salt together in a mixing bowl. You can have Easy Scones (Plain) using 7 ingredients and 9 steps. Here is how you achieve that.
Ingredients of Easy Scones (Plain)
It's 100 grams of Cake flour.
You need 100 grams of Bread (strong) flour.
You need 30 grams of Sugar.
It's 6 grams of Baking powder.
You need 1 pinch of Salt (optional).
It's 50 grams of Margarine (or butter).
It's 100 ml of Mixture of 1 egg and milk.
Add the butter in chunks and cut the butter into the flour mixture with a pastry cutter, or rub it in with your hands, until the mixture resembles course sand. Dust a large baking tray with flour and arrange the scones on it. Lightly brush each one with buttermilk or milk, then dust with a little more flour. To make plain scones, you start by rubbing cold butter into the dry ingredients until the mixture looks crumbly and resembles wet sand.
Easy Scones (Plain) step by step
To make quickly with a zip lock plastic bag, see..
If you use food processor, see these steps below..
Add the flours, baking powder and sugar into food processor to switch on..
Add the margarine or butter into 1, and mix until the mixture becomes crumbly..
Put the egg into a measuring cup to beat well, then add milk to make 100 ml totally. Then mix well. Leave some for glazing in the end..
Add 1/3 of egg mixture into "2". Mix until the mixture becomes together. When it turns heavy, stop the processor..
Take the dough out from the processor, fold it several times to knead. Then wrap it with a plastic wrap, rest for 20 – 30 minutes in fridge..
Roll up the dough into about 2cm thickness. Cut it into square or triangle with a knife. It won't stick if you cover plastic wrap on the dough..
If you want to glaze the scones, add a small amount of milk to the measuring cup and brush each. Bake fore the preheated oven at 200°C for 17 – 18 minutes..
I also use lard or vegetable shortening to make the scones extra soft. For this task, I like to use my stand mixer with the flat paddle attachment, but you could of course simply use your fingertips. One of the reasons I love scones so much is because they're so quick and easy to make. You can literally throw some flour, sugar, baking powder, and salt into your food processor, work in some butter, stream in the cream, shape the dough, and bake them up in less than a half hour. I never used to make scones in the food processor.