Sweet scones. Put flour, baking powder and salt into a large bowl; stir mix well Add butter and cut in with a pastry blender or rub in with your fingers, until the mixture looks like fine crumbs. Add milk and stir with a wooden spoon until dough forms, (the dough may be a bit crumbly). Scones are sweet or savory, perfect with coffee and tea, welcome at baby showers, bridal showers, brunch, snack time, bake sales, Mother's Day, and wherever muffins or coffee are appropriate.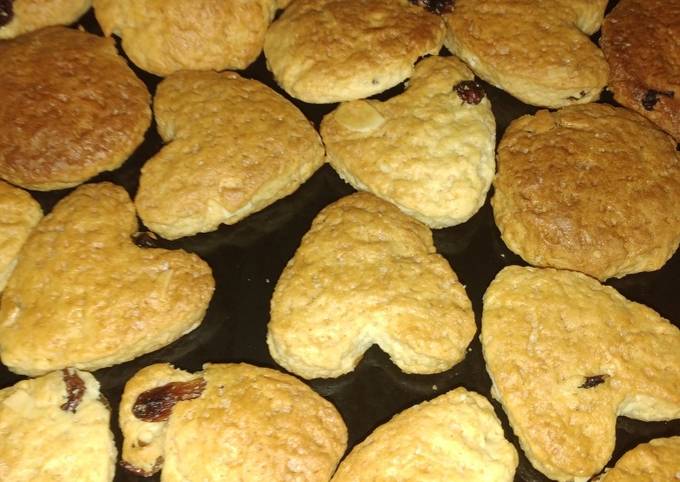 Add butter and cut in with a pastry blender until mixture looks like fine crumbs. Place dough on a floured surface and knead gently until the dough comes together in a ball. A buttery-rich scone is nothing more than a glorified biscuit made even more delicious with our sweet and savory Southern twists. You can cook Sweet scones using 6 ingredients and 6 steps. Here is how you achieve that.
Ingredients of Sweet scones
You need 250 gm of self raising flour.
You need 100 gm of sugar.
It's 70 gm of butter.
It's 135 ml of milk.
You need 25 gm of raisins.
It's 25 gm of almonds.
These fluffy treats pair exceptionally well with a cup of joe or tea. Famously known for their crumbly exterior and soft interior, these baked goods are oh-so-irresistible. Tattie Scones are a classic Scottish scone made with mashed potatoes. They're also known as "fadge" or "potato bread" in Ireland.
Sweet scones instructions
Adjust oven shelf to top position and preheat at 180 degree celsius.
Sieve flour add sugar raisins almonds and butter.mix all ingrediants using finger tips until z mixture looks like bread crumbs..
Pour milk and mix wz a fork 2 form a dough.Knead lightly 2 obtain a soft and smooth dough..
Roll z dough 2 cm thick on a floured surface 2 avoid sticking..
Transfer to baking trays glaze wz milk or egg whichever you like.
Bake for 12 or 15 mins until well risen and nice brown colour.Dust wz icing sugar and serve..
These versatile Cheese Scones can be prepared with any type of cheese and with varying amounts of chives, cayenne & dry mustard. Whisk together the buttermilk, egg, and vanilla (if making sweet scones). Pour the wet ingredients over the dry ingredients and mix just until all is moistened. Scrape the dough onto a floured work surface. With floured hands, gently knead the dough into a ball.