Za'atar scones. In a small bowl, whisk together the eggs and buttermilk and set aside. In a larger mixing bowl, whisk together the flours, baking powder, Za'atar, garlic granules, salt and sugar. Add in the butter and use a pastry cutter to cut the butter into the flour, leaving it in pea sized chinks.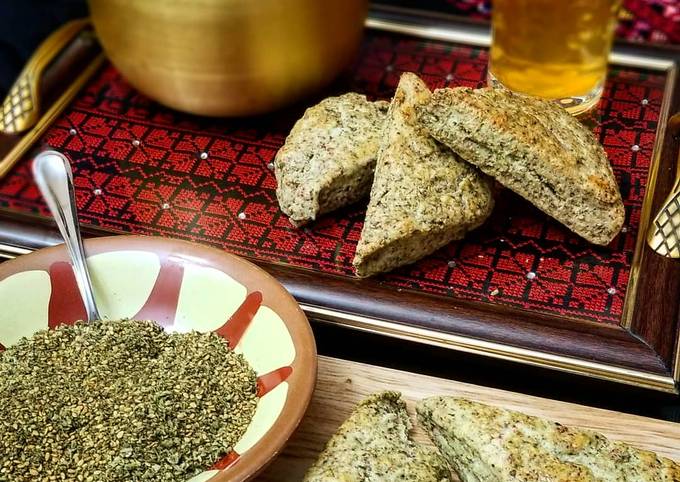 We love a good brunch recipe, but so often, the best morning meals can be so sweet. Then you end up with a sugar spike and crash later in the day. We say, have your scone without the sugar rush! You can cook Za'atar scones using 5 ingredients and 4 steps. Here is how you cook that.
Ingredients of Za'atar scones
You need 2 cups of AP flour.
Prepare 1 tbsp of BP.
You need 5 tbsp of unsalted butter, chilled and diced small pieces.
It's 1 cup of heavy cream.
It's 1/2 cup of za'atar.
If you'er not familiar with za'atar, it's both a single herb (member of oregano family) and a blend. Usually the za'atar is mixed with sesame seeds, salt and sometimes sumac. And, it's also delicious when brushed over this aubergine cheesecake. Halved the quantity of the original recipe as I didn't want to make so many large scones.
Za'atar scones step by step
Preheat the oven 450 f. in a bowl mix the flour, bp and za'atar, add the chilled butter, using a fork or a dough cutter, mix the butter into the flour, until pea size..
Add the cream, knead just to combine and gather the ingredients don't over knead, wrap in plastic wrap, refrigerate for about 30 minutes..
Roll your dough on lightly floured surface about 1/2 inch thickness, if your dough is not sticky, you don't even need the flour, cut into circles or triangles.
Brush with egg wash, bake on a sheet pan for about 15 minutes until surface is browned.
N ext to our house in London was a quaint little bakery that sold the most delicious. This is a new twist on a family favorite, and a great addition to any festive brunch. It is easy to prepare as it is to eat, the classic Herby zaatar speckles this wholesome scone and gives it a crunch, and makes it very tasty with the labneh, It doesn't matter the time of day breakfast food like scone is always a warm comforting choice with a cup of coffee or tea. One of my favourite flavours was chive and cheddar, and while I still adore that classic combo, there is something entirely different and uniquely piquant about this za'atar and halloumi version. These scones are perfect with some fresh tomatoes and olives for breakfast, as a snack on their own, as a side to soups, or next to salads.