Croissants. The croissants were light, flaky and tastes great. I used a little more flour as well used pastry four instead of all-purpose. It made them a little more lighter.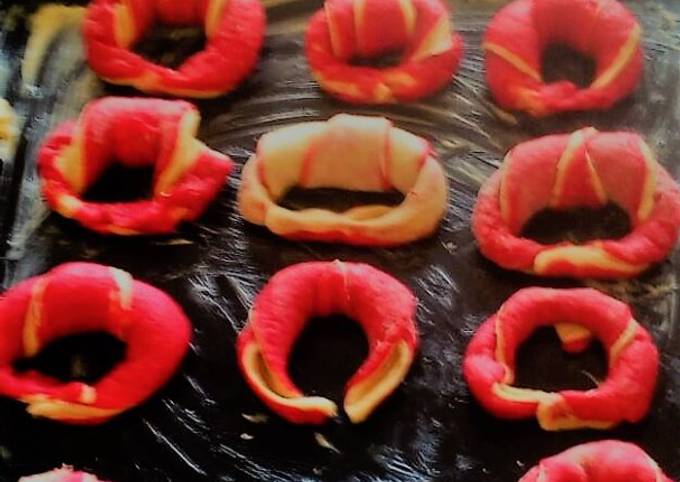 Begin shaping croissants: Working with one triangle at a time and keeping remaining triangles covered with a clean kitchen towel, hold the two corners of the base, and stretch to lengthen it slightly. Grasp inner corners formed by the slit in the base, and lift and stretch them toward the outer sides of the triangle; press to seal. Croissants are best within an hour or two of baking. You can cook Croissants using 24 ingredients and 13 steps. Here is how you achieve it.
Ingredients of Croissants
It's 1 cup of warm milk.
Prepare 1 teaspoon of sugar.
Prepare 1 1/2 cups of unsalted butter, at room temperature.
It's 1 tablespoon of yeast.
Prepare 4 cups of all-purpose flour, divided.
You need 1 cup of flour.
You need 1/2 teaspoon of salt.
It's 3/4 cup of milk, room temperature.
It's 3 tablespoons of sugar.
Prepare 1 1/2 teaspoon of salt.
It's 2 (.25 ounce) of packages active dry yeast.
It's 1/4 cup of sugar.
Prepare 1/4 cup of lukewarm water.
Prepare 1 of egg, beaten.
You need 1 cup of milk.
You need 1/2 cup of butter melted and cooled.
Prepare 1/2 cup of heavy cream.
Prepare 4 cups of flour.
It's 1 of egg.
You need 1 cup of cold butter.
Prepare 1 tablespoon of water.
Prepare 1 of egg, beaten with cold water.
It's of food color.
Prepare of food color.
Keep wrapped airtight at room temperature. Place shaped croissants on baking sheets lined with silicone mats. In addition to serving breakfast, lunch, brunch and delicious pastries and desserts, Croissants also specializes in wedding cakes, special event cakes and catering. Croissants are a classic French pastry, rolled and shaped into a crescent.
Croissants instructions
Stir warm milk and sugar together. Add yeast. Let stand 10 minutes. Stir well. Add flour; beat well. Add milk, sugar and egg. Beat until smooth. Add butter; beat and set aside..
In a large mixing bowl, place the 4 cups of flour and the chilled butter. Cut butter into flour until pieces are the size of beans (not too small). Pour the liquid batter into the flour mixture; stir until moistened. Cover the bowl with plastic wrap. Refrigerate for at least 4 hours or overnight.
Combine 2 cups of the flour with the salt and sugar in a mixing bowl. Dissolve the yeast in the lukewarm water (100 degrees F/38 degrees C) and set aside until frothy, about 10 minutes. Meanwhile, warm the milk and the heavy cream to lukewarm. Add the yeast, milk, and cream to the flour mixture and stir well. The dough will have a batter-like consistency.
Remove from refrigerator. Press into a compact ball on a floured board and divide into 4 parts. Roll each into a circle 12"or 16". Cut each circle into 6 or 8 pie-shaped wedges. For each croissant roll a wedge towards the point.Shape into a crescent and place on ungreased baking sheet..
Stir in the remaining 2 cups of flour 1/4 cup at a time to form a soft dough. It should no longer be sticky. Turn the dough onto a lightly floured work surface and knead until smooth, about 5 minutes. Place the dough in a mixing bowl and cover with plastic wrap. Refrigerate for 1 hour.
Let rise at room temperature until doubled.(May take 2 hours or more). Brush each with egg beaten with cold water. Preheat oven to 400 degrees F. Place croissants in oven. Lower temperature to 350 degrees F and bake for 15 – 20 minutes until golden.
To begin the rolling and folding process, both the butter and the dough should be at a cool room temperature. [See Cook's Note.] Place the dough on a floured surface and roll it into a 10-inch square. Set the block of butter diagonally on the square dough. Bring each point of dough to the center of the butter square; the edges of the dough should overlap. Pinch the edges together to seal.
Starting from the center of the square and working outward, use a rolling pin to roll the dough out into a rectangle. The butter should be pliable enough to roll smoothly with the dough; if it's too soft and starts to ooze out the corners, wrap the dough in plastic and refrigerate before proceeding. Roll the dough into a long rectangle, approximately 8 by 18 inches. Fold the length of dough into thirds, like a business letter.
If the dough is still cool, you can continue with another fold. Otherwise, wrap it in plastic and refrigerate for 45 minutes to 1 hour. Remove the dough from the refrigerator and let it warm up for about 10 minutes before you begin rolling it out again.
Position the dough so that the open ends are at 12 and 6 o'clock. Roll the dough into a rectangle, working from the center of the dough and pressing outwards. Reposition the dough as necessary to fit your work space. You should have a long rectangle for the "book fold." Fold both ends of the dough into the middle; the ends don't have to be touching, but should be close. Fold the already-folded dough in half; it will look like a thick book. Wrap the dough well with plastic and refrigerate for 1hr.
Remove the dough from the refrigerator and let it rest at room temperature for about 20 minutes. Roll the dough into a rectangle again and fold it into thirds, like a business letter. Wrap it in plastic and refrigerate for 4-6 hours or overnight..
To shape the croissants, roll the dough into a 10- by 38-inch rectangle on a lightly floured work surface. It should be about 1/4 inch thick. Use a pizza wheel or sharp paring knife to trim the edges of the dough. Divide the rectangle in half so that you have two 5-inch wide strips of dough. Use a clean yardstick to mark each strip into triangles that are 5 inches wide at their bases. Cut the triangles and place them onto parchment-lined baking sheets. Chill for 15 to 20 minutes, if necessary.
Starting at the base of the triangle, roll the dough up into a log; the tip of the triangle should be under the body of the croissant to prevent it from unraveling. Bend in the corners to form the traditional crescent shape. Repeat with the remaining dough.
They're light and airy, and so buttery, with a hint of sweetness and a little bit of a yeasty, stretchy texture. There's nothing else quite like a croissant! Unfortunately, the delicate outside crispness rapidly fades to a soft exterior, so they're best on the day they're baked. Sure it's possible to make croissants from scratch at home, but not everyone wants to tackle what can be a multi-day project. Find the best Croissants near you on Yelp – see all Croissants open now.