Lazy Sourdough Pizza Crusts. You can either freeze the dough now or make pizza on them. For a faster rise, place the dough in a warm spot (or double the yeast). For two thin-crust pizzas: Divide the dough in half and shape each into a flattened disk.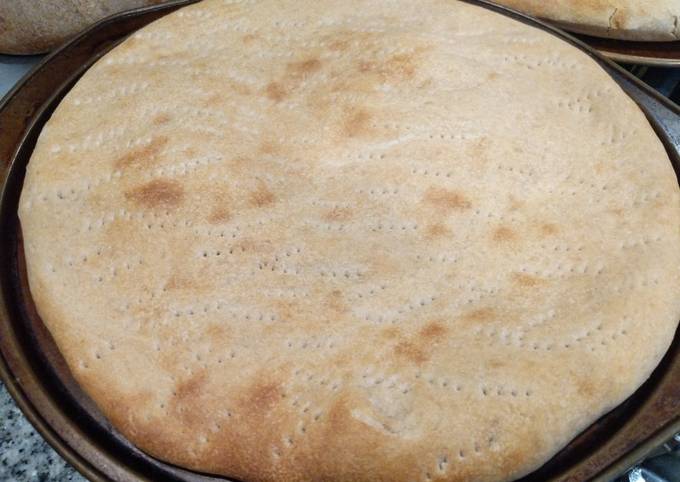 I haven't bought pizza dough since way back when when we used to purchase frozen sourdough pizza crusts from Grocery Outlet. I like to bake — sourdough if I have the time, regular yeast-risen crust if I don't. I do like homemade pizza though and I rarely eat out these days. You can have Lazy Sourdough Pizza Crusts using 4 ingredients and 6 steps. Here is how you cook it.
Ingredients of Lazy Sourdough Pizza Crusts
Prepare of Sourdough starter.
Prepare of olive oil.
Prepare of salt.
You need of flour.
Lightly flour your bench and the top of a single sourdough pizza dough ball from the fridge. Using a dough scraper, gently remove the dough ball from the proofing vessel and place top-side down on your bench (place the remaining ball back into the fridge). Flour your hands and the side of the ball facing up and begin shaping. Use floured fingers to press and nudge dough into a roughly round or rectangular shape.
Lazy Sourdough Pizza Crusts instructions
Preheat oven to 500F.
Throw it in your mixer and mix until it's nice and elastic.
Set aside to rise for an hour.
Cut into two equal shape balls, and roll out as pizza shells, 13" in diameter..
Use a fork to poke holes throughout, and bake for 7 minutes on a pizza stone..
You can either freeze the dough now or make pizza on them..
Head to Smitten Kitchen for the full recipe. Sourdough pizza crust (incredible flavor, incredible texture) Sourdough chocolate cake (literally one of the best chocolate cakes on the whole planet earth and one of the main reasons I continue to keep a starter). I'm a lazy sourdough baker too and I love it. It's so fun to experiment with recipes. I don't have a fancy pizza stone or cast iron pizza pan, so I just line a baking sheet with parchment paper, but I'm sure a pizza stone would make this even better!