Chocolate croissant. Place the chocolate croissants on a lined baking tray and paint with the beaten egg. Roll dough up over the chocolate toward the top short edge to form a croissant with the seam at the bottom. Place shaped croissants on baking sheets lined with silicone mats.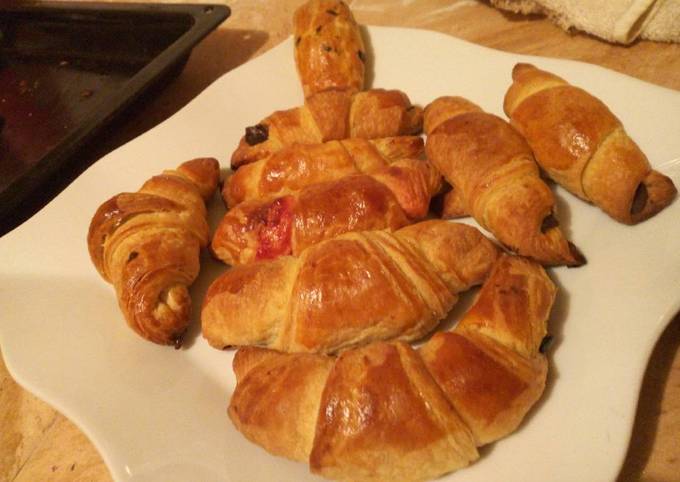 Place the croissants on a baking sheet, seam side down. Repeat with the other half of the dough. Brush the croissants with the beaten egg. You can cook Chocolate croissant using 9 ingredients and 8 steps. Here is how you achieve it.
Ingredients of Chocolate croissant
Prepare 250 gms of flour.
It's 25 gms of sugar.
It's 25 gms of croma/blueband.
It's 4 gms of salt.
You need 150 ml of milk.
It's 7 gms of dry yeast.
You need 4 gms of bread improver (optional).
Prepare 2 of Part.
You need 140 gms of pastry margarine / unsalted butter.
Save the rest of the egg wash in the fridge for later. Transfer the croissants to a baking sheet (lined with parchment paper, if desired, for easier cleanup). In a shallow bowl, combine the sugar, cornstarch and cinnamon; whisk in milk until smooth. Whisk in the eggs, cream and vanilla.
Chocolate croissant instructions
Make a dough with all the ingredients except the pastry margarine and allow it to double in size in a warm place.
Knock down and roll the dough into a rectangle about 5mm thickand cover one half of the dough.
Give it the first single turn and let rest 20-30 minutes.
Proceed to give two more single turns allowing between each turn same. Time 20-30mins..
Roll paste and cut into two strips.
Cut this into triangles.
Starting at the base add some chocolate roll up the triangle tightly to form into a crescent 🌙 shape and place on a greased baking tray.
Let it rise in a warm place, brush with egg wash and bake till golden brown.
Place tablespoon of chocolate chips on wide end of each triangle. Roll up, starting at shortest side of triangle, rolling to opposite point. Place croissant pieces in prepared pan. Beat cream cheese, sugar, eggs and vanilla in medium bowl with electric mixer until well blended. Add milk and mix until combined.