How to make croissants. Place on a baking sheet, curving slightly. Let shaped croissants rise until puffy and light. Croissants are made with a laminated dough, which involves folding butter into the dough multiple times to create alternating layers.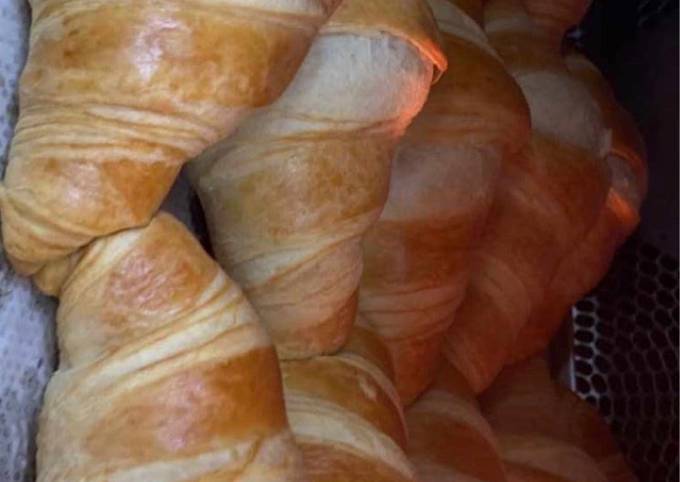 Once the oven is heated, put one tray of croissants on the top rack of the oven and the other on the bottom rack vertically. Wait until they are cool and serve. Brush the croissants with egg wash a second time. You can have How to make croissants using 9 ingredients and 4 steps. Here is how you cook it.
Ingredients of How to make croissants
You need of good bread floor.
Prepare of water.
It's of milk.
Prepare of suger.
Prepare of soft butter.
You need of instant yeast or 30g fresh yeast or 60g starter.
It's of fine sea salt.
Prepare of unsalted butter (cold).
It's of egg for glazing.
Put the sheets in the oven. Place warm water and yeast in bowl; stir until dissolved. A pastry as miraculous as a croissant is, predictably, tricky to make at home. There is the lamination — the process of rolling and flattening butter into thin sheets.
How to make croissants instructions
Day 1 Place all dry ingredients into a bowl and mix together. Make a well and add the butter and liquid. Bring together then place onto a floured surface. Work the dough lightly for about 3 minutes. You don't want to over work the dough as it will be harder to incorporate the butter on the next day. Push the dough down to form a flat disk place onto a lightly floured tray, cover and place into the fridge for at least 8 hours and up to 12..
Day 2 1 hour before you take the dough from fridge. Get your butter and pound it with a rolling pin to make it nice and flat. For the easiest method, place the butter between two pieces of parchment paper and gently pound until square and flat about 1/4". Place back into the fridge. Take your dough out of the fridge and place onto a lightly floured surface. Pin out to form a square. Then pin each side out so you have an envelope, 4 thin corners and a slightly raised centre piece..
Roll out dough into a large rectangle * make the butter layer (I have an easy trick for this!!!) * enclose the butter layer inside the dough Place back into the fridge and rest for 1 hour..
Day 3 * roll out the dough into another large rectangle, then fold it back together * roll out the dough again, fold it back together again * roll out the dough one more time, fold it back together * shape the croissants * bake😋😉.
This Croissant recipe is about as minimal equipment as you can get in a recipe. It's a no machine, as well as a no knead recipe. All it requires is some focu. You want to make sure they are nice and golden brown. Mix the yeast into the warm water, stirring until well dissolved.