Mango Nacho Dip. Spread cream cheese across the bottom of a small casserole dish. Steps to make Mango Nacho Dip: Spread cream cheese across the bottom of a small casserole dish. This is an easy and quick mango chutney recipe that works brilliantly as a dip for nachos or even on a piece of toast.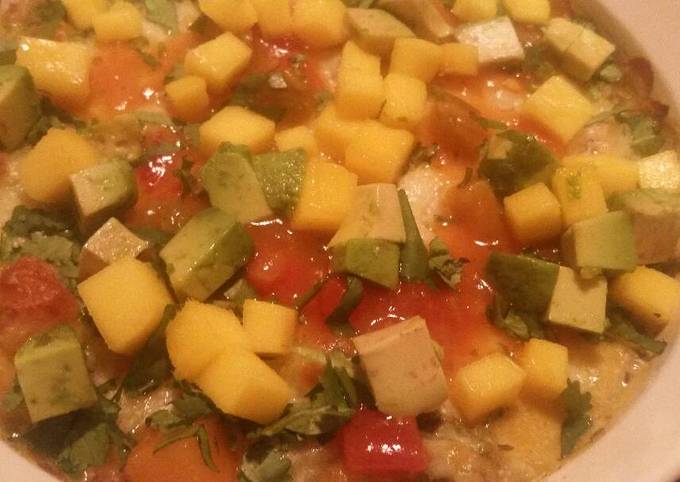 Drain off any excess liquid from the mango salsa and sprinkle over the top of the nachos. Slowly stir in goat cheese until incorporated into puree. Season with salt and pepper, cumin, cayenne pepper and fresh lime juice. You can have Mango Nacho Dip using 11 ingredients and 3 steps. Here is how you cook that.
Ingredients of Mango Nacho Dip
Prepare of mango; small dice.
It's of avocado; small dice.
It's of jalapeños; minced.
You need of small red onion; minced.
You need of cilantro; chiffonade.
Prepare of orange.
It's of diced green chiles.
It's of shreddded chihuahua cheese.
You need of cream cheese.
It's of peach-mango salsa.
You need of kosher salt.
Sweet mango and chili pepper upgrades this nacho dip. by: Rofel Balbuena Upgrade this nacho chip dip from the usual salsa to this version with chunks of sweet mango and hits of heat from the habañero pepper.. This homemade recipe is a family favorite and summer Friday nights are incomplete without it. Toss to mix the ingredients together.
Mango Nacho Dip step by step
Spread cream cheese across the bottom of a small casserole dish. Sprinkle jalapeño, mango, red onion, avocado, and cilantro atop the cheese.(Save about 1/4 of each to garnish the dip after cooking.) Pour half the salsa across. Spread the diced green chiles across. Squeeze the orange juice across the top. Top with chihuahua cheese..
Bake uncovered at 350° for approximately 30 minutes to melt the cheese. Garnish with remaining avocado, red onion, cilantro, jalapeño, mango, and salsa..
Variations; Roasted bell peppers, tomatoes, yellow onion, lime, salsa verde, queso fresco, cotija, coriander, poblano, habanero, nacho cheese, tomato salsa, corn, sofrito, pineapple, papaya, paprika, smoked paprika, serrano, mexican oregano, refried beans, pinto, black beans, nopalitos, tamarind, goat cheese, cheddar, black olives, bacon, chives, scallions, cumin, crema, chipotle.
In a medium bowl, mix mango, red bell pepper, green onion, cilantro, jalapeno, lime juice, and lemon juice. Choose from a wide selection of tasty options from the appetizer menu at Mango's Mexican and American Grill. Strain and discard the excess juice. Stir well to combine and chill. Serve in bowl with potato chips or vegetables.