Lemon, Raspberry and Almond Cupcakes. A deliciously moist and flavorful lemon cupcake topped with rich and creamy raspberry frosting. Absolutely *almost* too pretty to eat! Lemon, Raspberry and Almond Cupcakes instructions.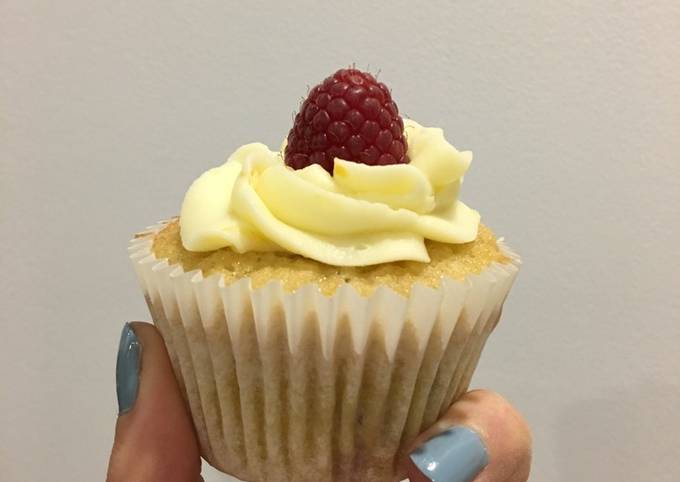 These bakery style Lemon Raspberry Almond Muffins are bursting with flavor. With fresh squeezed lemon juice, fresh raspberry and almond flavor, this combination makes the perfect summer muffin. These homemade muffins are finished with an almond streusel on top. You can have Lemon, Raspberry and Almond Cupcakes using 15 ingredients and 8 steps. Here is how you cook that.
Ingredients of Lemon, Raspberry and Almond Cupcakes
You need 200 g of self-raising flour.
You need 2 tsp of baking powder.
It's 200 g of unsalted butter, softened.
It's 4 of egg.
It's 200 g of caster sugar.
Prepare 3 tbsp of milk.
It's 50 g of ground almond.
Prepare of zest of 1 lemon.
Prepare 150 g of punnet raspberry.
Prepare of For the icing-.
It's 250 g of icing sugar.
Prepare 80 g of butter at room temperature.
It's Squeeze of lemon juice.
You need 25 ml of whole milk.
It's of Zest of 1 lemon.
Add in dry ingredients and mix until combined. Slowly add in egg white mixtures. Press the Almond Crunch topping gently into the batter with your fingers to get them to stick to the batter. When baked, these lemon Raspberry Almond Crunch Muffins turn out fluffy, tender, airy and so lemony-fruity!
Lemon, Raspberry and Almond Cupcakes instructions
Heat oven to 180C/fan 160C/gas 4. Line a 12-hole muffin tin with paper muffin cases..
Mix together the butter and sugar..
Add the flour, baking powder, lemon and ground almond..
Mix in the eggs one at a time..
Spoon into the cases. Once filled individually add 1 and half raspberries into each cases lightly crushing them before they go in, poking them down into the cake. (You can fold the raspberries into the mixture before putting them into the cases however I wanted an equal distribution of them).
Bake for 20-25 mins or until golden and just firm. Leave to cool completely before icing..
Make the icing by mixing the icing sugar and butter together. Once it starts to come together add the milk, lemon zest and juice..
Pipe the frosting on, adding a raspberry on top..
Beat butter in a large bowl with an electric mixer until light and fluffy. Mix the self raising flour and the baking powder together in a large bowl. Place the butter, grated lemon zest and lemon curd in a large mixing bowl. To make the cupcakes, place the butter, sugar, salt and lemon zest in a mixing bowl and cream together until pale and fluffy. Beat the eggs lightly in another bowl and slowly pour into the butter mixture while whisking quickly.