Coconut scone. In a food processor pulse together the flour, sugar, baking powder, and salt. Add in the butter and pulse a few times until the mixture is crumbly. Whisk the flour, baking powder, salt, granulated sugar and shredded coconut in a bowl.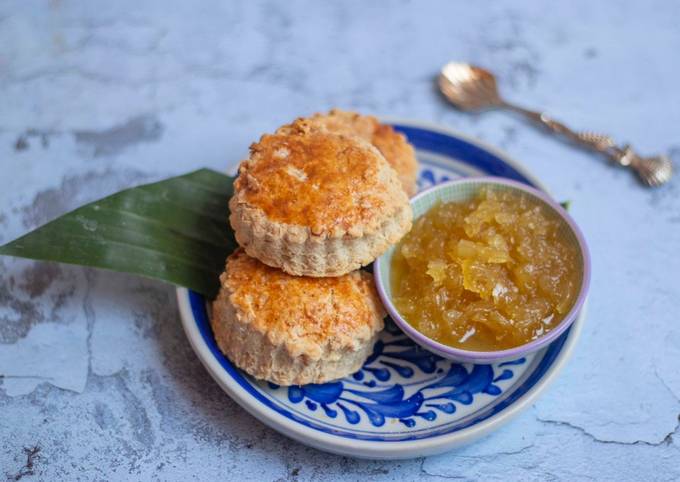 These scones are the perfect addition to your breakfast table and can also be an indulgent snack. When it comes to breakfasts I love scones. The scones have two types of coconut in them: shredded coconut and coconut milk. You can have Coconut scone using 12 ingredients and 9 steps. Here is how you cook that.
Ingredients of Coconut scone
Prepare 360 g of self-raising flour, plus more for dusting.
It's 2 tbsp of desiccated coconut.
Prepare 1/2 tsp of salt.
Prepare 1 tsp of baking powder.
Prepare 90 g of butter, cut into cubes.
Prepare 4 tbsp of caster sugar.
You need 180 ml of milk (I prefer almond milk).
It's 1 tsp of vanilla extract.
Prepare squeeze of lemon juice (to help the scone raise).
You need of Roasted coconut flakes (optional).
It's of beaten egg, to glaze.
You need of jam and clotted cream, to serve.
Coconut milk doesn't have a strong coconut flavor on its own, but that flavor does come out when combined with the shredded coconut. It also adds a nice richness to the scones that would otherwise be provided by cream. These coconut cream scones are the perfect combination of tender and flaky while being delicately sweet. Not too much sweetness that all you can taste is sugar and not so little that it seems like you're eating a savory scone.
Coconut scone instructions
Heat oven to 180'c. Pour some self-raising flour into a large bowl with salt, desiccated coconut and baking powder, then mix. Add butter cubes, then rub in with your fingers until the mix looks like fine crumbs then stir in caster sugar..
Put some milk into a jug and heat in the microwave for about 30 secs until warm, but not hot. Add some vanilla extract and a squeeze of lemon juice, then set aside for a moment.
Put a baking sheet in the oven. Make a well in the dry mix, then add the liquid and combine it quickly with a cutlery knife – it will seem pretty wet at first..
Scatter some flour onto the work surface and tip the dough out..
Form the dough and your hands with a little more flour, then add some coconut flakes if you prefer, then fold the dough over 2-3 times until it's a little smoother. Pat into a round about 4cm deep. Brush the tops with a beaten egg, then carefully place onto the hot baking tray..
Take a 5cm cutter and dip it into some flour. Press into the dough, then repeat until you have four scones. You may need to press what's left of the dough back into a round to cut out another four..
Brush the tops with a beaten egg, then carefully place onto the hot baking tray..
Bake for 10-15 mins until risen and golden on the top. Eat just warm or cold on the day of baking, generously topped with jam and clotted cream. I have mine with pineapple jam recipe is here cookpad.com/uk/recipes/11193697-easy-peasy-pineapple-jam.
If freezing, freeze once cool. Defrost, then put in a low oven (about 160C/fan140C/gas 3) for a few mins to refresh.
Just enough sweetness that the light coconut flavor from the coconut cream and flaked coconut still shines through! Transfer the toasted coconut to a plate and allow to cool completely. Coconut Scone Cookies These are scones you can eat for dessert and cookies you can eat for breakfast. A crumbly biscuit-y scone is topped with sweet vanilla glaze and dotted with perfectly toasted flakes of light and ever-so-slightly-crisp coconut. They're a nice change from the berry and citrus scones that tend to get most of the attention!