English Fruit Scones. English Fruit Scones There is nothing more quintessentially English than fruit scones, enjoyed with a hot cup of tea on a pleasant spring afternoon. We've shared our favourite fruit scone recipe, adapted from Jane's Patisserie's. Enjoy this quick and easy method for fruit scones with a classic afternoon tea.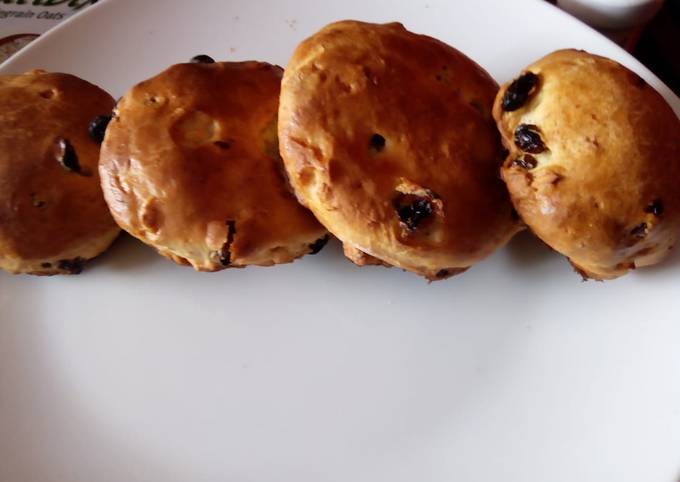 Add the butter and rub mixture to form "bread crumbs". In a large bowl, whisk together flour, sugars, baking powder, and salt. Add butter and, using a pastry cutter or your hands,. You can cook English Fruit Scones using 8 ingredients and 8 steps. Here is how you achieve that.
Ingredients of English Fruit Scones
You need 170 grams of self raising flour.
Prepare 3 grams of baking powder.
It's 38 grams of butter.
It's 45 grams of sugar.
It's 10 grams of dried fruits…sultanas and raisins.
Prepare 110 ml of milk.
It's 8 grams of nuts.. Optional.
It's of Milk for the glaze.
English Fruit Scones – Perfect For Afternoon Tea Freshly baked fruit scones should look as perfect as the ones you'd find in a traditional English tearoom or better still, just like the scones your grandmother used to make. Properly baked, tall scones with a good distribution of sultanas are an excellent addition to afternoon tea. These don't need clotted cream and preserves – just serve them fresh and warm from the oven with a serious amount of really good butter. You can now watch how to make scones in our Cookery School Video, just click the image to watch.
English Fruit Scones step by step
Sift flour and baking powder in a bowl.
Add in the butter and rub till the mixture becomes sandy.
Add in the sugar and milk(in bits)..till a smooth dough forms.
Add in your nuts and dried fruits.
Transfer your dough to a floured surface.. And knead your dough till smooth.
Place them on a greased tray and glaze them with a little milk.
Let it rest for a while…roll your dough…and cut into 5 cm round.
Bake in a preheated oven 220 degrees C for about 10-15 minutes.
In a large bowl, combine the flour, sugar and baking powder. Cut in butter until mixture resembles fine crumbs. Beat milk and egg; add to dry ingredients, stirring lightly. Sift the flour, baking powder, sugar and salt into a large bowl. Cut in butter using a pastry blender or rubbing between your fingers until it is in pea sized lumps.