Low fat blueberry scones. If you would like lemon blueberry scones, add in a little lemon zest. You could also try orange zest. If you don't have buttermilk, use plain yogurt mixed with a bit of milk to thin it down.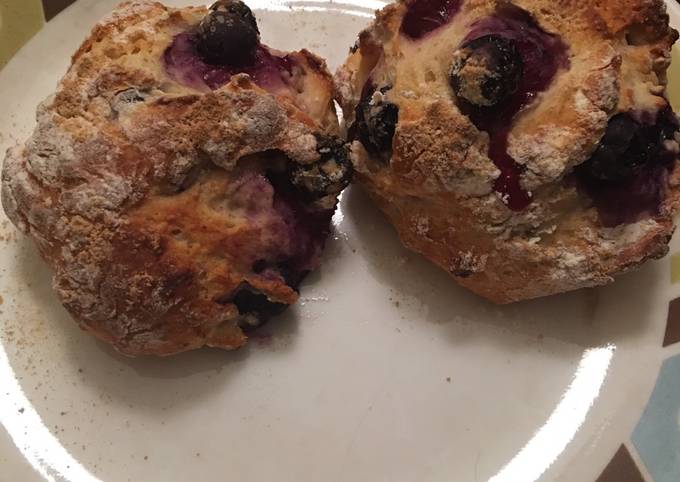 Low-Fat Blueberry Scones From Dan Mikesell AKA DrDan These almost zero-fat blueberry scones are packed with juicy blueberries, topped with a bit of sugar, and are the perfect sweet breakfast or brunch treat. DIRECTIONS NOTE: I make these scones using the "Bisquick Heart Healthy" lower fat product, but the nutrition content stated is for Standard Bisquick. In a large bowl, gently toss Bisquick Mix, sugar and blueberries. You can have Low fat blueberry scones using 9 ingredients and 7 steps. Here is how you cook it.
Ingredients of Low fat blueberry scones
You need 1/2 cup of all purpose flour.
You need 3/4 teaspoon of baking powder.
It's 1/8 teaspoon of baking soda.
You need 1/8 teaspoon of salt.
Prepare 2.25 teaspoons of sugar (I used maple sugar).
It's 1/3 cup of non fat yoghurt.
It's 1/4 teaspoon of vanilla extract.
It's 1/4 cup of blueberries (fresh or frozen).
It's 3/4 teaspoons of sugar (for topping).
Healthy low fat scones that are tender and delicious! Studded with blueberries and flavored with just a touch of lemon zest, these are delicious! For being low fat this scone is light, fluffy, moist and not dense at all. It isn't too sweet and the blueberries add a touch of tartness to the scone.
Low fat blueberry scones step by step
Preheat oven to 400 F (conventional oven)..
Mix dry ingredients..
Mix wet ingredients into dry and stir to incorporate..
Fold blueberries into dough..
Flour a silicone baking mat, add dough, and separate into two portions. Add some flour on top of dough if the dough is too wet. Slightly flatten and dust with remaining sugar..
Bake about 16-18 minutes or until golden brown..
Allow to cool, but also excellent served warm..
They also look great when they come out of the oven as well (not to mention the wonderful aroma that lingers in the kitchen). Still searching for what to cook ? Combine flour, sugar, baking powder, baking soda and salt in a large bowl. Cut butter into flour mixture with a pastry blender or two knives until it resembles a coarse crumbs. Stir with a fork until a dough forms.