Pineapple upside-down cake. Try An Honestly Sweet Alternative To Sugar. Find Out How Truvia® Can Work For You. Make cake batter as directed on box, substituting pineapple juice mixture for the water.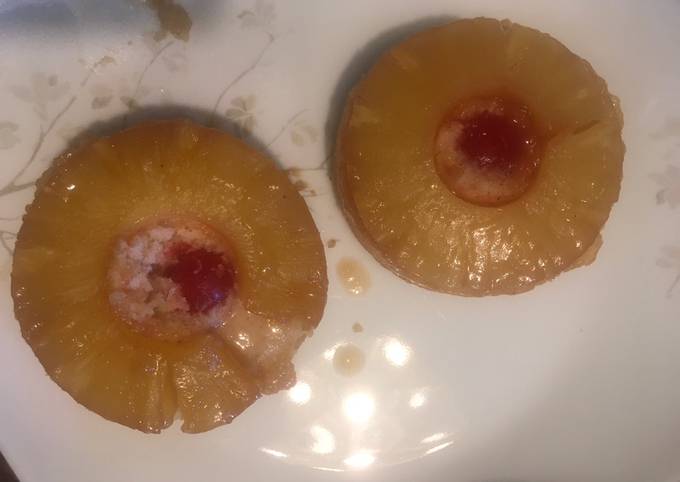 Place cherry in center and between each pineapple slice, if desired. Combine flour, baking powder and salt in bowl; set aside. Remove from heat, and sprinkle brown sugar evenly over pan. You can have Pineapple upside-down cake using 11 ingredients and 3 steps. Here is how you achieve it.
Ingredients of Pineapple upside-down cake
Prepare 4 of tsp,butter,Melted, divided.
Prepare 4 tsp. of Brown sugar.
You need 2 of canned unsweetened pineapple slices.
Prepare 2 of maraschino cherries.
Prepare 1/3 cup of all-purpose flour.
Prepare 3 tbsp. of Sugar.
Prepare 1/2 tsp. of Baking powder.
You need 1/8 tsp of salt.
You need Dash of ground nutmeg.
Prepare 3 tbsp. of Milk.
You need 1/4 tsp. of Vanilla extract.
Arrange pineapple slices to cover bottom of skillet. Distribute cherries around pineapple; set aside. When melted, sprinkle the brown sugar over the butter. Pineapple Upside Down Cake with Pink Peppercorn Caramel.
Pineapple upside-down cake instructions
Pour 1/2 tsp. Butter into each of two 10-oz. ramekins coated with cooking spray. Sprinkle with brown sugar. Top with a pineapple slice. Place a cherry in the center of each pineapple slice ; set aside..
In a small bowl,combine flour,sugar,baking powder,salt and nutmeg. Beat in the milk,vanilla and remaining butter just until combined. Spoon over pineapple..
Bake at 350 for 20-25 minutes or until a toothpick inserted in the center comes out clean. Cool for 5 minutes. Run a knife around the edges of the ramekins; invert onto dessert plates. Serve warm..
Substitute reserved peach juice for the pineapple juice. Cranberry Orange Upside-Down Cake: Omit the pineapple, pecans and cherries. Sp oon the batter over the pineapple, gently spreading out in an even layer. When it's finished baking, the cake gets inverted in one big flip so that the pineapple rounds end up topping the cake and displayed upside down—or right side up, depending on your point of view. A cherry in each round adds a whimsical polka-dot sensibility to a cake that truly needs no introduction.