Savoury Scones. Add all the dry ingredients into a large bowl and stir to combine. Grate the frozen butter into the dry ingredients. Savoury scones are dead easy to make and taste amazing topped with cheese and with a slightly spicy hint of mustard; serve simply with butter.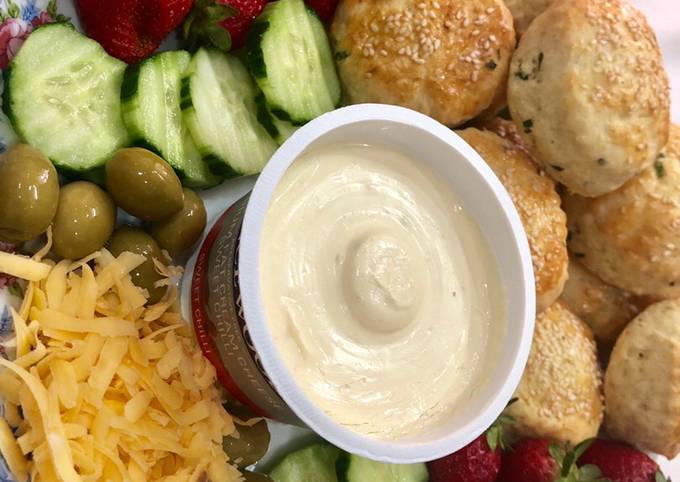 Place the scones on abaking tray lined with parchment paper. Glaze the top of scones with either milk or beaten egg. Savory Scones A hybrid between traditional sweet scones and salty, buttery biscuits, this all-purpose dough is ideal for all sorts of savory fillings. You can have Savoury Scones using 13 ingredients and 8 steps. Here is how you cook that.
Ingredients of Savoury Scones
You need 4 cups of flour.
Prepare 1 teaspoon of salt.
You need 8 teaspoons of baking powder.
You need 125 g of butter.
Prepare 2 of eggs.
Prepare 1/2 cup of sour milk (Maas).
It's 2 tablespoons of oil.
It's 2 teaspoons of crushed green chillies (optional).
It's to taste of Black pepper.
Prepare 2 teaspoons of lemon juice.
Prepare A few of sprinkles dried parsley.
It's 1 1/2 teaspoons of sugar.
You need 1 tablespoon of chopped fresh coriander.
From gruyere, onions, and mushrooms to gouda. Pumpkin Spice Scone Topping Breannagregory. dates, pecans, Craisins, cream cheese. Basic Scone Recipe with Flavor Variations Chef Ann – Whirlpool. Savory scones make terrific brunch or cocktail party partners.
Savoury Scones step by step
Sift flour and add salt, baking powder and sugar.
Rub in butter until fine like breadcrumbs.
Make dough with beaten eggs, sour milk, oil, crushed green chillies (optional), black pepper, lemon juice, chopped coriander.
Pat on floured surface.
Cut rounds 2cm thick.
Place on baking tray.
Brush with beaten egg and sprinkle with parsley or sesame seeds.
Bake at 180 degrees for approx 10 -15 mins.
Behold: Bacon-Cheddar Chive Scones: Get ahead genius. These scones taste great, and they're perfect next to soup, scrambled eggs, or cut small as tiny bursts of savory goodness on an appetizer buffet next to the olives. Tip: Freeze for anytime entertaining, or for your own convenience Instructions. In a large bowl, whisk together flour, baking powder, sugar, and salt. Cut in the butter with a pastry cutter or fork (or your hands), until pea-size pieces form with some larger chunks remaining.