Plain Sweet Scones. Sift flour, baking powder and salt into a bowl and rub in the butter until the mixture resembles breadcrumbs. Add all the milk and mix lightly into a soft dough. Knead together the remaining dough and cut into another scone if you can.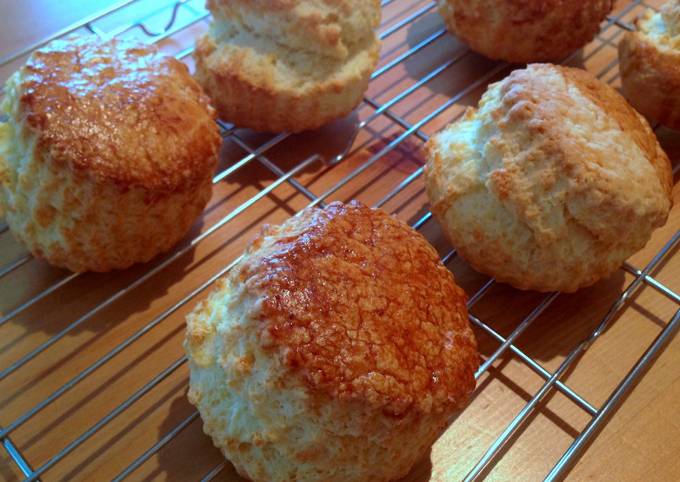 But to be honest, nothing beats just plain English scones with jam and clotted cream. Slathering on a homemade jam and clotted cream takes this scrumptious baked treat up another notch. Grate butter into flour mixture on the large holes of a box grater; use your fingers to work in butter (mixture should resemble coarse meal), then stir in raisins. You can have Plain Sweet Scones using 7 ingredients and 9 steps. Here is how you achieve it.
Ingredients of Plain Sweet Scones
Prepare 225 g of plain flour.
You need 11 g of baking powder.
You need 75 g of unsalted butter.
Prepare 40 g of caster sugar.
Prepare 1 of egg.
Prepare 30-40 g of milk.
You need 1/4 tsp of salt.
In a small bowl, whisk sour cream and egg until smooth. Dust a large baking tray with flour and arrange the scones on it. Lightly brush each one with buttermilk or milk, then dust with a little more flour. Classic plain scone recipe Perhaps the simplest of all baked goods in this entire world, the humble scone surely conjures up fond memories for every Aussie.
Plain Sweet Scones step by step
Sift flour and baking powder in a bowl. Cut butter in chunks and toss in the flour. Rub the butter into the flour with your fingers until it has a texture like almond powder..
Mix in the sugar (and anything else like raisins, nuts, cheese, etc. that you might be using)..
Whisk the egg and milk together. Add a little over half to the flour in the bowl and start to mix/cut together with a knife so it starts to form a dough. You want all the little crumbs to be incorporated into the dough. Add only enough of the milk/egg mixture until the crumbs are gone (you usually need more in the winter because the air is dryer). Set the rest of the liquid aside for later as egg wash..
Knead the dough 2-4 times until you have a round, soft dough. If you have time, let it rest in the refrigerator for 30 minutes or even over night (it helps improve texture, but isn't necessary if you're in a hurry)..
On a lightly floured board, press the dough into a round circle with your hands (do not use a roller!) until it's about 2.5 cm thick. Cut out 4-5 scones with a scone cutter or your favourite size. Knead together the remaining dough and cut into another scone if you can..
Place the cutouts onto a lined baking sheet..
Brush the surface well with the remaining egg/milk mixture from before. If you didn't have any left over, use a beaten egg..
Bake in a 180C/350F oven for 12-15 minutes until the tops are shiny and golden brown. Let cool on a rack for a few minutes..
Done! Serve with butter, jam, cream, etc..
Gatherings with family and friends, school bake sales, fundraising morning teas at work, a quaint little cafe in the Southern Highlands, or your grandmother's kitchen. Scones are sweet or savory, perfect with coffee and tea, welcome at baby showers, bridal showers, brunch, snack time, bake sales, Mother's Day, and wherever muffins or coffee are appropriate. (All the time!) But depending on the recipe and technique, scones can be dry and sandpaper-y with flavor comparable to cardboard. Whisk together the buttermilk, egg, and vanilla (if making sweet scones). Pour the wet ingredients over the dry ingredients and mix just until all is moistened. Scrape the dough onto a floured work surface.