Mimi's Favourite Banana Cupcakes. Lightly beat bananas and white sugar together in a bowl until smooth; add eggs, one at a time, until incorporated. Stir in flour, baking soda, and buttermilk; mix well. Pour batter into the prepared muffin cups.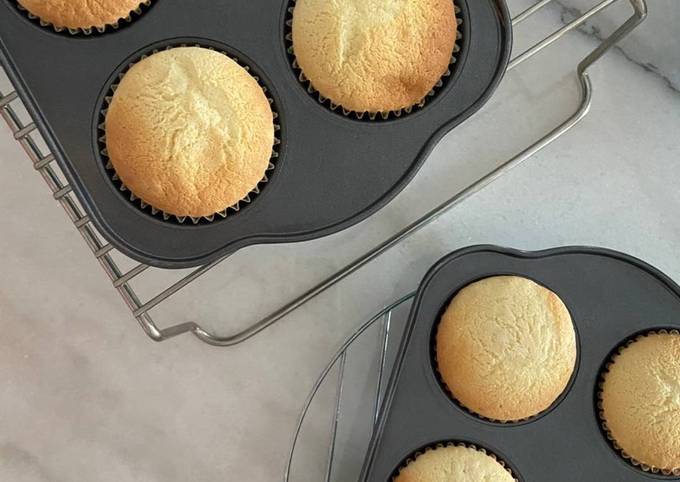 Beat egg whites on high until stiff peaks form and set aside. In a separate bowl, cream together butter and sugar with mixer. Add in yolks and milk mixture. You can have Mimi's Favourite Banana Cupcakes using 9 ingredients and 7 steps. Here is how you cook it.
Ingredients of Mimi's Favourite Banana Cupcakes
Prepare 125 g of Sugar (Mitr Phol).
Prepare 200 g of Eggs or 4 of Size 3 eggs.
It's 10 g of SP (UFM) – this is a cake emulsifier.
You need 130 g of Cake flour (Royal Fan).
Prepare 1 tsp of Baking powder.
Prepare 75 g of Unsalted butter; melted (Allowrie).
You need 50 g of Evaporated milk (Falcon).
Prepare 100 g of Banana.
It's 1 tsp of Banana essence.
Spray your muffin pan with nonstick spray and set aside. Mix flour, baking soda, baking powder and salt in bowl. Mix bananas, sugar, butter, and egg until smooth. Add in flour mixture, continuing to stir until everything is combined.
Mimi's Favourite Banana Cupcakes instructions
Beat "sugar" and "eggs" and "SP" together lightly.
Sift "cake flour" and "baking powder".
Mix (1) and (2) together; Start beat then lightly and beat using high speed for 5 minutes until fluffy white.
Add "melted unsalted butter" and "evaporated milk" and "banana" and "banana essence" and mix with (3) until smooth.
Beat at low speed for 1 minute before baking.
Pour into cupcake trays.
Bake at 180C for 12-15 minutes.
Spoon this into muffin pan evenly. Add cupcake liners to each slot in your muffin tin. Place one vanilla wafer at the bottom of each cupcake liner. Add two pieces of banana on top of each vanilla wafer. Make the pudding according to the package directions, except use slightly less milk to make it thicker.